Max Holloway kept his belt with a unanimous decision victory over Frankie Edgar at UFC 240 last week. I took Holloway in my picks, but he was my only win of the event. I went 1-2, losing my two big underdog picks as Niko Price and OAM weren't able to get it done. This week the UFC is heading to New Jersey with a UFC on ESPN card (TSN here in Canada) that features an awesome main event fight between Colby Covington and Robbie Lawler that could bring order to the welterweight division.
I only have two plays for this UFC card. The first and last fights of the night. I will be using the best odds available from any of our top rated betting sites for my picks.
Sportsbook
Features
Offers
Rating
Bet Now
1
Licensed and regulated in Canada
Easy deposits & withdrawals including Interac
Competitive betting lines
2

Licensed and located in Ontario
Entirely focused on Canadian betting market
Easy deposit/withdrawal options, including Interac
Colby Covington vs Robbie Lawler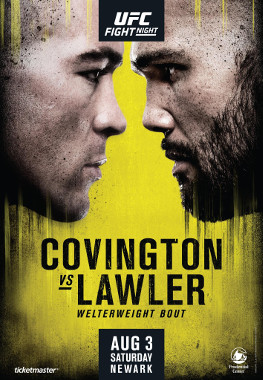 I think it's crazy that Colby Covington hasn't gotten a title shot yet, but a dominant win over Robbie Lawler on Saturday should book his ticket to the title shot against Usman. Covington hasn't fought in over a year, since winning the interim belt in a fight against RDA. He's sat out claiming the interim belt should guarantee him a title shot, but that's not the way the UFC works these days and they opted to go with Usman instead, who ended up winning the belt vs Woodley.
Lawler is coming off a submission loss to Ben Askren last fall, after taking more than a year off from a one-sided beating dealt by RDA. The fight with Askren was a strange one because some refs may have called the fight when Lawler had Askren in trouble, but the fight progressed and Ben found a bulldog choke to get the win. You really have to go back to his title defense against Rory MacDonald in 2015 to find a fight where Lawler really impressed me. Since then he does have wins over Condit and Cerrone, but anyone could beat Carlos at this stage of his career (5 straight losses now) and the fight against the smaller Cerrone was very close with Lawler fighting smart to edge 2 rounds, but Cerrone winning over 15 minutes in my opinion.
In this fight I see Covington just having too much pressure for Lawler. Robbie does have solid takedown defense, but RDA showed the game plan of pressuring him against the fence and not giving him an inch will pay dividends. And Covington is even better at this game plan than RDA — Colby used this same game plan against RDA himself.
I think Colby should be able to keep constant pressure on Lawler for 25 minutes to get a decision win. Robbie does have knockout ability, so if he can time something he can get a knockout, but I think that's unlikely.
Play: Covington 1.43
Hannah Goldy vs Miranda Granger
I was surprised to see that Goldy was the favourite in this fight. Yes, she looked decent in her Contender Series fight in June, but I think these odds have some major bias from both recency and the fact that UFC fans have had a chance to see her in action, which isn't true for Granger.
On the other side of the cage, Miranda Granger is getting her shot in the UFC without having to go through the Contender Series. She is the Cage Fury FC Strawweight Champion and I would argue she has fought better competition during her short career than Goldy. Granger has three straight first round submission victories and these wins came over fighters who have been in the cage with UFC veterans. For example, Granger beat Jamie Colleen in 2 minutes, while Colleen has a win over UFC veteran Daniell Taylor, and a loss to super prospect Maycee Barber, which took 3 rounds.
Overall, I think Granger has been in the cage with better competition and she's done exactly what she's supposed to by beating them quickly. She obviously has terrific grappling as shown by her record of quick submission victories. Granger is 6-0 in her career with 5 first round finishes and 1 second round finish. Goldy is 4-0 with four decision wins.
Granger is the rightful favourite in this fight, so I'll gladly take her at plus money.
Play: Granger 2.60
Check out our UFC betting page to learn more about the different bets you can make on the fights.
Tagged With : UFC betting