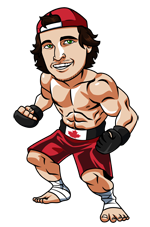 It won't be the Khabib Nurmagomedov vs Tony Ferguson headliner that MMA fans have been desperate for, and the event ended up being postponed for nearly a month, but UFC 249 will go ahead on May 9th with Justin Gaethje stepping in to face Tony Ferguson for an interim lightweight belt in the main event.
The UFC released the full fight card a few days ago, and the majority of fights that were expected to be on the April UFC 249 card are still on this card, with a few other solid additions including Dominick Cruz returning to face Henry Cejudo for the bantamweight belt in the co-main event. The card will take place in Jacksonville, Florida, and it will be the first of three cards taking place at the venue in one week as the UFC attempts to catch up to their schedule. Other big fights on the card include Anthony Pettis vs Donald Cerrone, Jacare Souza vs Uriah Hall, Francis Ngannou vs Jairzinho Rozenstruik, Vicente Luque vs Niko Price, and more.
I have some picks below and I'm using the best odds available at any of our top rated betting sites for Canadians.
Sportsbook
Features
Offers
Rating
Bet Now
1

Licensed and regulated in Canada
Easy deposits & withdrawals including Interac
Competitive betting lines
Tony Ferguson vs Justin Gaethje
I think Gaethje probably had a good idea this fight could materialize for a while based on him sharing a manager with Khabib, so I won't be buying into any narratives that Gaethje is coming in on short notice against Ferguson who has been training for the fight.
That said, I do think Ferguson gets this win. I just think he's on another level than Gaethje and I think he will be able to cut Justin open in the pocket and be able to scramble away if Gaethje does connect with any power shots. Ferguson has been hurt several times before, but he has a unique way of removing himself from danger while still finding a way to turn the tides.
Ferguson has won 12 straight fights in the UFC including doctor stoppages at the end of the second round in both of his last two fights against Pettis and Cerrone. He may not have one punch knockout power, but he's in there looking to put a hurt on his opponent and he has an underrated submission game as well.
Gaethje is going to throw everything he can at Tony, but I believe Ferguson will get this finish by the third round.
Play: Ferguson 1.56
Henry Cejudo vs Dominick Cruz
Dominick Cruz has not fought since his loss to Cody Garbrandt back in December of 2016. A string of more injuries has kept him sidelined, but if he can return at 100% I think he can give Cejudo problems.
Cruz has the footwork to keep Cejudo on the backfoot, and being the naturally bigger man, I expect him to be able to hold his own in any wrestling exchanges and keep this fight standing. Cejudo is an active fighter, so I don't expect him to use the Garbrandt strategy of not initiating any exchanges, which should allow Cruz to use his counterstriking and footwork to his advantage.
People seem to remember the Cruz vs Garbrandt fight as a dominant win for Cody, but the fight was very close with Cruz winning 2 rounds on all judges scorecards and actually outlanding Garbrandt by 20 strikes. Cruz has never been knocked out and I don't see Cejudo getting a submission win. There is a clear path to victory for Cruz by being the more technical fighter on the feet, so at 2-1 I think he's a great value play.
Play: Cruz 3.00
Donald Cerrone vs Anthony Pettis
Cerrone has lost 3 in a row in devastating fashion, but these were fights against three of the most dangerous guys in the lightweight division. He's staying up at welterweight to face Anthony Pettis, who is a shell of his former self. If it wasn't for Pettis' lucky KO win over Stephen Thompson he'd be a big underdog in this fight.
Cowboy should have a higher output on the feet, and I also think he's the better wrestler if he wants to take this fight to the mat. I think he will turn up the pressure on Pettis into the second round and find his groove en route to an easy win. As long as Cowboy can avoid an early knockout at the hands of Pettis, I do think he gets this victory.
Play: Cerrone 2.25
Vicente Luque vs Niko Price
Luque defeated Price by submission in October of 2017. The two will now meet again almost three years later, but I don't think the result will be any different. Luque is an elite fighter in the UFC. He's 10-2 in his UFC career with his only losses coming via decision to Leon Edwards and Stephen Thompson, who are easily top 5 fighters in the division and I think you could argue either guy having the best chance at beating the champ. So basically, Luque only loses to elite, elite fighters.
Niko Price has some fun knockouts in this UFC and can generate power from weird positions, but he's not an elite fighter. He's a guy who is usually down in fights and pulls out a miraculous knockout to get a victory. When facing elite strikers like Razak Alhassan and Geoff Neal, Price was knocked out early.
I expect Luque to get a finish of Price in the first two rounds.
Play: Luque 1.36
Calvin Kattar vs Jeremy Stephens
Kattar is similar to Luque in that he's only lost to top fighters in his UFC career. Kattar is 4-2 in the UFC with his only losses coming via tight decisions to Renato Moicano and Zabit Magomedsharipov. Kattar has beaten Andre Fili, Shane Burgos, Chris Fishgold and Ricardo Lamas, truly outclassing these fighters.
Jeremy Stephens has lost his last three fights to Jose Aldo, Zabit Magomedsharipov and Yair Rodriguez. He was outclassed by Zabit and Yair.
I think Kattar has the cleaner striking and I think he will be able to stand in the pocket and pick Stephens apart.
Play: Kattar 1.38
Jacare Souza vs Uriah Hall
Souza is getting up there in age and is coming off of two losses, but those were both against high volume fighters who were able to smother Souza en route to victories in fairly close fights. Hall is the exact opposite of Hermansson or Blachowicz. He's a very low volume fighter who looks for a knockout, while really not engaging very much at all.
Souza has a great chin and I just don't see him getting caught by anything that Hall is going to throw. If Souza can get this fight to the mat he has a big advantage and even on the feet I think he will be the more aggressive fighter, so if this goes to a decision I still see him getting the nod.
Jacare has far more paths to victory in this fight than Hall, so I think he's a great value play as a small favourite.
Play: Souza 1.80
Tagged With : UFC betting • UFC picks