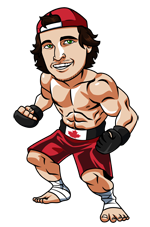 The UFC is headed back to Madison Square Garden in New York City this Saturday for what could be the biggest card of the year. Nate Diaz vs Jorge Masvidal is set to headline the card with the specially made BMF Belt on the line. The fight card is completely stacked as well with Gastelum vs Till, Wonderboy vs Luque, Lewis vs Ivanov, Lee vs Gillespie, Anderson vs Walker and more.
I have five picks below. I've used the best odds available from any of our top rated betting sites for Canadians for the picks.
Sportsbook
Features
Offers
Rating
Bet Now
1

Licensed and regulated in Canada
Easy deposits & withdrawals including Interac
Competitive betting lines
2

Licensed and located in Ontario
Entirely focused on Canadian betting market
Easy deposit/withdrawal options, including Interac
Nate Diaz vs Jorge Masvidal
I was surprised to see that Masvidal opened as basically a 2-1 favourite in this fight. Sure, Jorge has had a solid 2019, but let's not forget that he's just 2-2 in his last four fights. He knocked out Darren Till in impressive fashion back in March, but Till is one of the most overrated hype jobs in the division, with only one impressive win in his entire career vs an undersized Donald Cerrone. Jorge than avoided a fight vs Ben Askren by getting that impressive 5 second knockout, but we didn't really get to see how Masvidal would have handled Askren's wrestling in a real fight. I'm just not sold on Masvidal. Sure, he's taken advantage of his two fights this year, but he's still basically a .500 UFC fighter, who is just at his peak at the moment.
Diaz, on the other hand, got through Anthony Pettis, but he didn't look that good. He seemed to gas a little bit in that fight, which was likely the result of trying to bulk up for 170 pounds. I expect Diaz to get back to his roots of having top level cardio for this five round fight against Masvidal, who he won't be giving up size too anyways, considering both were career lightweights.
I think this fight is going to be a war, and Diaz is a fighter that is better suited for main event wars. I think he's going to take some big shots from Masvidal, but keep pressing forward and I expect Jorge to fade. Neither guy has a good record when going the five round distance, but I do expect Nate to have the better cardio in this fight.
As long as Nate can avoid an early knockout, I think he could take this fight over and move forward against Masvidal en route to a decision victory.
Play: Diaz 2.40
Darren Till vs Kelvin Gastelum
As I mentioned above, Darren Till is one of the biggest hype jobs in recent memory. He has one good win in his career, and that was against Donald Cerrone, when the size difference was remarkable. Sure, he got the win against Wonderboy, but he was gifted that decision and I don't think he initiated an exchange in that entire fight.
Till is moving up to middleweight and is fighting a killer in Kelvin Gastelum. Kelvin will have the better striking, and quite simply will be better everywhere. I'm expecting a fairly early knockout from Gastelum.
Play: Gastelum 1.50
Stephen Thompson vs Vicente Luque
This is an extremely tough fight for Wonderboy. I'm a big Wonderboy fan, but I think Vicente Luque is an underrated killer. Luque is now 10-1 in the UFC with his only loss coming vs another super underrated fighter in Leon Edwards, who could be the best welterweight in the world. Yes, Luque had a very tight fight with Mike Perry, but Perry looked vastly improved in that fight and Luque still pulled out the win.
This is going to be a chess match, but if Luque can back Wonderboy up and land any of his shots we could see Wonderboy knocked out once again.
I'm really looking forward to this fight and I think the smart money is on Luque.
Play: Luque 2.05 @ SportsInteraction.com
Gregor Gillespie vs Kevin Lee
Gillespie is finally getting a step up in competition and I think a dominant win here could put Gregor just a couple fights away from the title. He's 6-0 in the UFC and he's finished his last 5 opponents, while looking absolutely dominant.
I expect Gillespie to put the pressure on Lee from the outset and I don't think Lee will be able to handle the pressure.
Play: Gillespie 1.61 @ SportsInteraction.com
Makwan Amirkhani vs Shane Burgos
I like Amirkhani as my big dog play on the card. He's a 2-1 underdog, but I think his striking has improved enough to hang with Burgos on the feet, while looking to take the fight to the mat.
Amirkhani is 5-1 in the UFC with his only loss being a split decision L to Arnold Allen in a back and forth fight. Burgos is a slick striker with great timing, but if Amirkhani can close the distance and get this fight to the mat I think the different grappling levels will be evident.
Play: Amirkhani 2.95
Tagged With : UFC betting • UFC picks