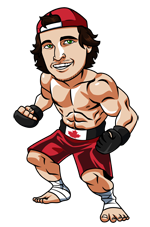 The UFC is in Vegas this week for International Fight Week and arguably the best PPV card of the year to date. Jon Jones is continuing his busy return against his latest challenger in Thiago Santos, while Amanda Nunes looks to continue to be the champion in two weight classes as she defends her bantamweight belt against Holly Holm. The people's main event is probably the Ben Askren vs Jorge Masvidal fight, and the rest of the card is full of great fights.
I have plays from the three biggest fights on the card which you can see below. I've used the best odds available at any of our top rated betting sites for Canadians.
Sportsbook
Features
Offers
Rating
Bet Now
1

Licensed and regulated in Canada
Easy deposits & withdrawals including Interac
Competitive betting lines
2

Licensed and located in Ontario
Entirely focused on Canadian betting market
Easy deposit/withdrawal options, including Interac
Jon Jones vs Thiago Santos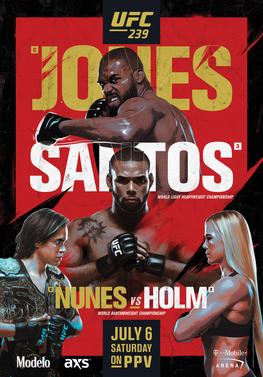 Jones definitely loses this fight less than 1 in 5 times. Yes, Santos is a threat, but everyone Jones has fought in his career has been a threat and he's dealt with almost all contenders with relative ease. The length and intelligence of Jon Jones will keep him out of danger in this fight as he goes about his business putting together another dominant performance.
Santos does bring the fight to his opponents (only 3 decisions in 18 UFC fights), so he may force Jones to engage is more of a firefight than he's used to. That said, I still think Jones is the best at dictate how a fight plays out. He uses his length, oblique kicks and sometimes even eye pokes to keep fighters outside of their best range. The point is he gets the job done and stays out of trouble.
Play: Jones 1.18
Amanda Nunes vs Holly Holm
Holly Holm is 2-4 in her last 6 UFC fights with her only wins coming over low level competition in Bethe Correia and Megan Anderson, and yet somehow she gets this title shot against Nunes at bantamweight. Holm's only win at bantamweight since beating Rousey was over Correia. It's pretty crazy she's getting this shot, but here we are.
I don't think Holm is on the same level as Nunes. Even coming from boxing I still think Nunes has the better hands with by far more knockout power. She's also far better on the ground. The only chance Holm has in this fight is if Nunes gasses out like she had the propensity to do earlier in her career. That said, Nunes showed against both Shevchenko and Pennington the ability to continue to push forward for 5 rounds and I think she will realize Holm is a fighter who often goes the distance. Holm is fairly durable, but she mostly goes to decision by stalling a lot and punching air continuously.
Overall, it will take Nunes beating herself or a well timed high kick from Holms to pull off this upset. I don't see it happening. Nunes has far more ways to win and is easily the better fighter.
Play: Nunes 1.29 @ SportsInteraction.com
Ben Askren vs Jorge Masvidal
Masvidal gets one win over a supremely overrated Darren Till and suddenly he's jumping up the rankings and talking about a title shot. Let's not forget how Wonderboy put on a striking clinic vs him for 3 full rounds two fights ago, or how Maia was able to take him down 4 times 3 fights back. Masvidal is another overrated fighter who is basically a .500 fighter in the UFC over the past 4 years, but beats one overrated fighter and takes over his hype.
I still don't really know how Askren will perform against the top fighters in the UFC. His fight with Lawler could have been stopped after the slam Lawler put on him and then the narrative would be completely different. But Askren was able to recover and eventually go to work on Lawler finishing the fight with a bulldog choke.
Against Masvidal, I don't think Askren will have much trouble getting the fight to the mat. Masvidal has been taken down in most of his UFC fights where he's not facing pure strikers. I expect Askren to get the fight to the mat when he needs to and go to work. I'm not sure if Askren will be able to finish the fight when it goes to the mat, but I think Masvidal will need a knockout to win this fight and I'm not convinced he's going to catch Askren with that KO blow in this fight.
Play: Askren 1.43 @ SportsInteraction.com
I was hoping to find an underdog to counteract these three big favourites I'm backing, but I didn't see anything I liked. Sometimes you just have to go with the favourites and expect them to get the job done. Check out our UFC betting page for a step by step guide outlining how to get your bets placed.
Tagged With : UFC betting • UFC picks