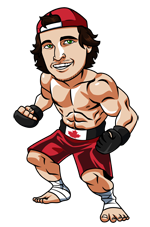 The UFC heads to Atlanta this week for UFC 236, which is headlined by two interim title fights. Max Holloway is moving up to lightweight to take a shot at a second belt in an interim title fight with Dustin Poirier, while Kelvin Gastelum has to settle for an interim title shot after his real title shot with Robert Whittaker fell through a few months ago, this time taking on rising star Israel Adesanya.
The two title fights are big time fights that should be great to watch. I'm particularly interested in the Holloway vs Poirier fight, which should be a barn burner with both guys capable of dragging the fight into deep waters.
Sportsbook
Features
Offers
Rating
Bet Now
1
Licensed and regulated in Canada
Easy deposits & withdrawals including Interac
Competitive betting lines
2

Licensed in Ontario and Malta (accepts bettors from across Canada)
Competitive betting lines
Easy deposit/withdrawal options, including Interac
Max Holloway vs Dustin Poirier
This is a dog or pass spot for me. Both of these guys have impressed me tremendously over the past several years. Holloway's output is legendary, but you also have to factor in the fact Holloway is coming up a weight class for the first time in his career and we don't know how his body will react to that change.
Poirier is a great all-around fighter who has knockout power and has shown the ability to go into a dog fight and come out on top. That's exactly what he's going to have to do against Holloway, who simply doesn't let up.
This should be an amazing fight and I give Holloway a slight edge, but at these odds I think it's a dog or pass spot.
Poirier has been knocked out twice since 2013 and he's won every other fight (outside of the NC vs Alvarez) going 11-2-1 in that span. He's similar to Holloway in that he continues to push the pace until he gets the finish, if he doesn't land a KO punch early. I don't see Holloway knocking out Poirier early so this is going to be a case of which guy can continue to turn up the pace and continue to land the bigger shots late into this fight.
This should be an absolute barn burner of a fight between two warriors, and I really think it could go either way.
Play: Poirier 2.80
Israel Adesanya vs Kelvin Gastelum
I think Adesanya is a tough matchup for Gastelum. He's the better striker and he has a good ability to keep range, while landing devastating blows on his opponents.
Gastelum's best path to victory is likely getting Adesanya to the mat and going to work, but Gastelum has not scored a takedown since his loss to Neil Magny way back in 2015. And in that fight Magny initiated the majority of takedowns, getting Gastelum to the mat 6 times himself.
Speaking of Magny, he's a similar body type to Adesanya, but not anywhere close to the level of striking. In fact, I consider Magny very overrated among UFC welterweights and he was still able to match Gastelum on the fight and win with takedowns and control.
Gastelum has earned this title shot by taking out older fighters who are past their prime. He scored finishes of Kennedy, Belfort and Bisping during his run at middleweight, while also losing a clear decision to Weidman in 2017. In his recent fight he beat a Jacare Souza who is no doubt still a top fighter, but it was not an impressive win with Gastelum pulling out a split decision that most felt should have gone to Jacare.
Overall, I think both of these guys are fortunate to be in the spot they are, and they are both in for a big step up in competition when they face each other (not including the Jacare fight or the Weidman loss for Gastelum).
I'm going to side with the up and coming technical striker to land the bigger shots from range and either get a finish or outlast Gastelum en route to a clear decision win.
Play: Adesanya 1.57
Alan Jouban vs Dwight Grant
I think people are sleeping on Alan Jouban in this fight. There's no way he shouldn't be the favourite against Dwight Grant.
Jouban is a UFC veteran who is 7-4 in his UFC career, and 4-2 over his last 6 fights. Yes, he lost both of his fights in 2017, but those losses came against Gunnar Nelson and Niko Price, two of the best finishers in the division, and he bounced back with a knockout win over Ben Saunders last year.
Jouban is a high level fighter who has only lost to top 20 welterweights in his UFC career. There's no way you can consider Dwight Grant a top level welterweight.
Grant is coming off an impressive knockout win over Carlo Pedersoli, but before that he lost a split decision to Zak Ottow in his UFC debut. Jouban is a big step up from either of these guys.
Grant has the power to score a knockout of Jouban, but I have to side with the experience and technique of Alan Jouban to get the job done in this fight and earn another shot at some ranked fighters.
Play: Jouban 1.91