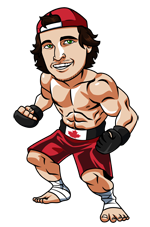 UFC 235 is a stacked card taking place this Saturday night at T-Mobile Arena in Las Vegas. Jon Jones is back on a quick turnaround to defend his light heavyweight belt against Anthony Smith, while Tyron Woodley is also back in the cage defending his welterweight belt against Kamaru Usman. We will also be treated to the UFC debut of Ben Askren vs Robbie Lawler, and other big name fighters such as Cody Garbrandt, Zabit Magomedsharipov, Johnny Walker, Mickey Gall, and many others round out this stacked card.
I have picks for the big 3 fights, as well as a couple other value plays below.
Sportsbook
Features
Offers
Rating
Bet Now
Jon Jones vs Anthony Smith
Jon Jones is almost a 10/1 favourite and rightfully so. Jones put on one of the most dominant performances of his career in his recent fight with Alexander Gustafsson, and has shown no signs of rust after dealing with suspensions over the last few years.
Anthony Smith is a talented fighter, but he's not on the same level as Jones. He starched two aging stars in Evans and Rua in his first two fights at LHW, and then finished the hyped up Volkan Oezdemir to earn this title shot. That said, I don't actually consider any of these guys a top 5 in the division, so this is a monster step up for Smith.
These type of fights seem to often be the type that derail perennial champs (see GSP vs Serra), so I'm not going to be betting this fight myself, but I think Jones is the clear overwhelming favorite for good reason. Unless he somehow gets caught (which he never does) he will win this fight.
Lean: Jones 1.12
Kamaru Usman vs Tyron Woodley
This is an interesting title fight. If Usman can push the pace and avoid getting caught with a bomb from Woodley, then he has a realistic path to victory. That said, in order to effectively pressure Woodley and keep him on the back foot I think you need to have higher level striking than Usman (see Rory MacDonald).
I don't expect Usman to be able to back Woodley into the fence, while also avoiding the knockout punches Woodley is capable of delivering. It's going to take an all-around fighter to beat Woodley, and I'm not convinced Usman is that guy.
Woodley's wrestling should be able to stuff Usman's shots, and in a striking battle, although Usman may be the more active guy, the big shots from Woodley can turn the fight on it's head at any moment.
Play: Woodley 1.57
Ben Askren vs Robbie Lawler
I really like Ben Askren, but this is a tough fight for him to enter the UFC. Askren has dominated his entire MMA career, but he's not been fighting elite fighters in the majority of his fights. This is a big step up for him even against an aging Robbie Lawler that is past his prime.
Lawler is a smart fighter who likes to go hard for 2 rounds and take the middle round off. Against Askren that could be a difficult strategy to pull off because he's going to be pushing for the takedown non-stop. Lawler has solid takedown defense, but wrestlers have shown the ability to get him on the mat. He was taken down 7 times by Johnny Hendricks over their two fights, and Askren is the higher level wrestler.
I'm going with Askren in this fight. He's the fresher guy after Lawler took an absolute beating in his last fight with RDA, and I think he will eventually get the fight to the mat with his persistence. Lawler is a dangerous striker, but he doesn't really have one punch KO power, so I don't see many paths to victory for Lawler outside of keeping it standing 2 out of 3 rounds and getting a tight decision win.
Askren has the clearer path to victory.
Play: Askren 1.41
Tecia Torres vs Weili Zhang
Torres is on a 2 fight losing streak, but those losses were to Joanna Jedrzejczyk and Jessica Andrade, two fighters who are among the top 3 in the division. Torres now faces Weili Zhang, who is a very hyped up fighter who has gone 2-0 in the UFC.
This is a massive step up in competition for Zhang, and in those circumstances I like to side with the more proven fighter at plus money.
Torres is an active striker and I expect her to be able to hang with Zhang on the feet. I'm expecting a tight decision in this one, but like I said, I'll take the veteran to hand the prospect her first UFC L.
Play: Torres 2.15
Diego Sanchez vs Mickey Gall
I believe Mickey Gall is one of the most overrated fighters in the UFC. He is 4-1 in the UFC, but 2 wins were over guys who aren't pro fighters (Jackson and Punk), the win over Sage Northcutt came from a bit of a lucky punch and Sage panicking, and the most recent win was over George Sullivan, who has lost 4 fights in a row.
Diego Sanchez is an aging veteran, but he's still not an easy out for Gall. Sanchez has a suspect chin, but Gall is a low level striker for the UFC level. Sanchez has also been fighting solid guys his entire career because of his name value. I think he has the ability to grind out Gall and get the win.
Sanchez hasn't been taken down in his last 6 fights (yes, 3 he lost by first round KO, so there wasn't a lot of time for the takedowns) and Gall really doesn't have great wrestling.
Sanchez has all of the tools to beat Gall, and at these odds I think he's the best value play on the card.
Play: Sanchez 3.75
Tagged With : UFC 235 • UFC betting