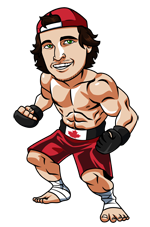 The UFC is coming to Toronto this Saturday with a PPV card that Canadians should be very excited about.  I will be at UFC 231 this Saturday and I'm very excited with how stacked this card is.  Fingers crossed we don't lose any fights between now and Saturday.
The card is being headlined by Max Holloway vs Brian Ortega for the featherweight belt, and the co-main is the women's flyweight title fight between two of the biggest names in women's MMA with Valentina Shevchenko vs Joanna Jedrzejczyk.  Some other big fights include Alex Oliveira vs Gunnar Nelson and Jimi Manuwa, and there is a ton of Canadian content on the card for the hometown fans.
Sportsbook
Features
Offers
Rating
Bet Now
Max Holloway vs Brian Ortega
I really like Holloway at these odds.  I think this is his fight to lose, and as long as he's fully healthy I believe he will get the job done.
Ortega is an interesting fighter.  He's a very dangerous guy who can win a fight at a moment's notice.  It's his submission grappling skills that are his real fight finishing weapon, but he's also added some nice combinations which he can use to finish fights standing if he finds the right range (KO over Frankie Edgar).
Outside of the Edgar fight though, Ortega consistently would be losing his fights before getting the finish.  Against Swanson he was being outstruck 60-24 before jumping to flying guillotine choke and finishing the fight in the second round.  Against Moicano he had easily lost the first two rounds before catching Moicano in a guillotine from an ill-timed takedown attempt.  Against Guida he was even being grinded out for two rounds before connecting with a knee to get the 3rd round KO.  Even Brandao was up 56-29 in strikes and 2-0 in takedowns before Ortega submitted him in round 3.  There's not a single UFC fight (except maybe against Edgar) where you can say Ortega was winning the fight before getting the finish.  He's constantly snatching victory from the jaws of defeat.
As you can see from the previous paragraph it only takes a second for Ortega to finish a fight.  The problem though with that is that in all of those wins his opponents gave him an opening to grab their neck or land the power shot.  With Holloway's style of volume striking, I just don't see many openings for Ortega.  Holloway won't risk taking this fight to the mat, and as good as Ortega's submission skills are he usually relies on his opponent to take the fight to the mat.  He actually has 0 takedowns in his 6 UFC wins.
Holloway is too active to give many openings for big strikes coming back.  Ortega will be on the defensive for this entire fight and I don't think Holloway will make the mistake that Ortega needs to capitalize on.  I think Holloway will overwhelm Ortega by landing a ton of strikes, but remaining smart and taking a measured approach to get the unanimous decision victory (possibly late stoppage).
Play: Holloway 1.80
Valentina Shevchenko vs Joanna Jedrzejczyk
I think Shevchenko has some big advantages in this fight.  First of all, she will be the bigger flyweight considering she's coming down from 135 pounds to her more natural weight class of 125 lbs.  Joanna is coming up from her natural 115 pound weight class to 125 because she doesn't have a clear path to the title at straw weight.
Both Shevchenko and Joanna are extremely high level strikers, but I think Shevchenko even gets the edge in this category.  She beat Joanna 3 times in amateur kickboxing matches in 2006, 2007 and 2008.  That's a long time ago, but I do still believe Shevchenko has the better striking and she will be able to counter Joanna with some big power punches if Joanna tries to do her stick and move punching technique that works against the less technical strikers at strawweight.
I also give Shevchenko the edge when it comes to taking a punch.  Shevchenko has been fighting bigger, powerful strikers and has never been knocked out in the UFC.  Joanna was TKO'd early in her first fight with Namajunas and I could definitely see similar strikes landing in this one.
Finally, Shevchenko has also shown me more on the mat than Joanna.  Valentina has 7 submission wins in her MMA career, while Joanna only has 1 way back in 2012.  I think Valentina has embraced the entire martial arts, while Joanna has stuck to the striking strategy that has been successful for her in her career.
Play: Shevchenko 1.28
Gunnar Nelson vs Charles Oliveira
I think Gunnar has a ton of potential and I expect a big win from him over a very game Charles Oliveira this weekend.  Gunnar has probably the second best submission grappling next to Demian Maia in the welterweight division and if he can avoid Oliveira's power I think he will get the job done on the mat.  Oliveira is a powerful fighter who likes to use his wrestling to control fights, but I think that will be a mistake against Gunnar.
I also think that Nelson's striking is quite underrated.  I could see him hurting Oliveira standing and then taking the fight to the mat himself and getting the finish.
Overall, I see many more paths to victory for Nelson in this fight than for Oliveira.
Play: Nelson 1.72
Matthew Lopez vs Brad Katona
For this fight I just think the line is off.  I think this fight should actually be a pick'em so I'm taking the line value on Matthew Lopez.
In this fight we have a case of Lopez's stock being low at this time, while Katona's stock is very high.  Lopez is coming off of two knockout losses, but they were against two of the best (and underrated) fighters in the bantamweight division in Assuncao and Alejandro Perez.  Before that Lopez knocked out Johnny Eduardo and beat Mitch Gagnon.  At that point his stock was sky high, which is why the UFC gave him the Assunaco fight, but it was obviously more than he could handle.  That said, it's not like Lopez looked out of his depth against Assuncao and you could argue he was even beating Perez before the 2nd round KO.
Katona has the hype train rolling after a very impressive win in his UFC debut to win The Ultimate Fighter 27 back in July.  Katona easily beat Jay Cucciniello, and even though he's fought some decent guys in his 8-0 MMA career this is still a huge step up in competition for the Canadian.  Katona has also not recorded a knockout since his first MMA fight against a low level fighter, so without that path to victory this fight becomes much more difficult.
Don't get me wrong, Katona definitely has potential, but we really don't know how good he is against a top guy, which I believe Lopez to be.  I see more paths to victory for Lopez and based on these odds I think there is definitely value in the American.
Play: Lopez 3.00
Tagged With : UFC 231 • UFC betting • UFC picks