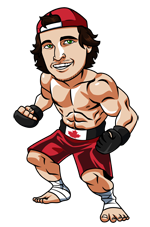 UFC fans have waited two long years, but this coming Saturday we will finally be treated to the return of Conor McGregor to the UFC's octagon.  The last time we saw Conor in the UFC he was destroying Eddie Alvarez to become the first double champion in the UFC history by securing the lightweight belt to go along with his featherweight title.  In the two years since, the UFC has been forced to strip Conor of both belts due to inactivity, so he's heading into the octagon this Saturday to attempt to reclaim the lightweight title, which he never lost, but which was won by Khabib Nurmagomedov earlier this year at UFC 223.  This UFC 229 event is expected to be the biggest PPV of all time for the UFC and I'm expecting a great show.
The early prelims will begin at 6:15pm EST on Fight Pass, with the card shifting to TSN 5 at 8pm for the four main preliminary fights.  The PPV portion of the card then kicks off at 10pm EST with the Conor vs Khabib fight expected to take place around midnight.
I have four plays for this card.  I'm using the best odds available at any of top rated betting sites for Canadians.  Check out our how to bet on Khabib vs McGregor article for a simple 3 step guide explaining how to bet on the fight from here in Canada.
Sportsbook
Features
Offers
Rating
Bet Now
1

Licensed and regulated in Canada
Easy deposits & withdrawals including Interac
Competitive betting lines
2

Licensed and located in Ontario
Entirely focused on Canadian betting market
Easy deposit/withdrawal options, including Interac
Conor McGregor vs Khabib Nurmagomedov
This fight has people divided with very strong opinions on whether Conor or Khabib will win this fight.  Khabib has looked like a killer, never officially losing a round in his UFC career, but he does have some holes in his game, which is why I am taking McGregor to pull off the upset.
Khabib is a great chain wrestler.  Once he gets hold of his opponents he will continue to push forward until he gets the fight to the mat.  From there he likes to stay in a safe position and land solid ground and pound for the duration of the round.  He's terrific at this strategy, but his stand up is not great and he doesn't have great submission grappling, instead relying on dominance to win decisions, but he generally doesn't finish fights.  This means that even if Khabib is able to close the distance and get Conor to the mat fairly easily (which I don't actually expect either) that means Conor will have 5 opportunities on the feet to begin each round because I don't think Khabib will be able to finish the fight.
Conor fought a similar wrestling style fighter in Chad Mendes back in 2015.  He was actually taken down 4 times by Mendes in that fight, but was generally able to get back to his feet eventually, and after weathering the storm on the mat, Conor turned up the pressure on the feet and knocked Mendes out at the end of the second round.  Mendes seemed to gas himself out working for the takedowns and ground and pound, while Conor conserved his energy, taking minimal damage and then turned up his offense after finding a route back to his feet.  This fight was 3 years ago and you can be sure that Conor has improved on both his takedown defense and scrambling since that fight, so even though Khabib is a better wrestler, I'm still not convinced he will be able to get Conor to the mat.
There is a mystique around Khabib right now, but when you actually look at his opponents he really hasn't fought anyone at the level of Conor.  Yes, he beat RDA dominantly back in 2014, but RDA does not have the one punch power than can keep a wrestler like that away from him.  Covington showed the same style still works against RDA in their recent fight and that was against a bigger and stronger RDA, so I just don't read too much into that fight.  Iaquinta and Barboza have power, but both were so worried about the takedown that they didn't really throw any strikes of their own.  Instead of trying to hurt Khabib when he came in they tried to prevent the takedown, which is not the right strategy.  Michael Johnson was one of the only guys who actually tried to mount offense against Khabib and he actually wobbled Khabib early in that fight.  Conor is a much more measured striker with more power and better timing than Johnson, so I think he has a great chance to hurt and finish Khabib at the start of a round in this fight.
I expect Conor to have trained some combinations that are prepared for the type of takedowns that Khabib likes to attempt.  With Conor's timing I expect one of these combos to land and for McGregor to once again shock the world by knocking out Khabib in this fight.
Play: McGregor 2.30
Tony Ferguson vs Anthony Pettis
It's hard to argue that Ferguson has the best resume in the lightweight division.  Even better than either McGregor or Khabib.  He's won 10 straight fights in the UFC dating back to 2013.  He's a hard fighter to plan for because he gets in your face and throws unorthodox strikes, while also having a terrific submission grappling game that is also unorthodox and hard to game plan for.
Pettis has shown he can still beat guys outside of the top 5, but he's faltered against big names going 3-5 in his last 8 fights.  His wins have been over Charles Oliveira, Jim Miller and Michael Chiesa.  That is a much different class of fighter than the five losses he has had in that span to Rafael dos Anjos, Eddie Alvarez, Edson Barboza, Max Holloway and Dustin Poirier.  Pettis is still a solid fighter who is dangerous both on the feet and on the mat, but the book is out on him and I don't see him beating many elite fighters until he improves his takedown defense and learns to pull the trigger on his attacks.
Pettis does have the tools to pull off an upset over Ferguson, who often gets clipped early, but I think the chances are slim.
Play: Ferguson 1.31 @ SportsInteraction.com
Derrick Lewis vs Alexander Volkov
Lewis continues to get disrespected by the oddsmakers.  This is a guy who just beat Francis Ngannou and has won 8 of his last 9 UFC fights.  It's not always pretty, as we saw in the Ngannou fight, but Lewis continues to get the job done.  He's even battled with back issues in many of those fights, but it seems like he has that injury under control at this time.  With knockout wins over Pesta, Gonzaga, Nelson, Abdurakhimov, Browne and Tybura, you'd think Lewis would be considered a real threat.
Volkov has looked good winning four straight fights to start his UFC career over solid competition, but I'm still not completely sold on him.  He doesn't really have one punch KO power, instead relying on volume to wear down his opponents.  This is a risky game plan at heavyweight when only one punch coming the other way could be enough to put Volkov to sleep.
I expect Lewis to be throwing heavy hands in this fight looking for the KO to get the bad taste out of his mouth after his boring win over Ngannou.  Volkov will likely get the better of the exchanges, but it will only take one flush punch from Lewis and possibly some ground and pound for him to get this win and really force the UFC's hands in getting him a title shot.
Play: Lewis 2.50
Felice Herrig vs Michelle Waterson
I like Herrig to get the job done against the Karate Hottie.  Herrig has looked like a different fighter since taking over a year off following her loss to Paige VanZant back in July of 2015.  She cam back and won four straight inside the octagon including big wins over Grasso, Kish and Casey.  Her last time out she suffered an end to that winning streak when she lost to Karolina Kowalkiewicz by split decision this past April.  That said, Kowalkiewicz is one of the best strikers in women's MMA and Herrig held her own throughout the 15 minutes with the fight staying mostly on the feet.
Waterson was really pushed into the fire by the UFC after her dominant win over Paige VanZant in one of their showcase Fox events, but Waterson was unable to capitalize with losses to Rose Namajunas and Tecia Torres.  Those are two great fighters in the women's strawweight division though, so it's hard to really knock Waterson for those losses.  She bounced back in her last fight with a split decision win over Cortney Casey, but it was far from a dominant win with 16 or 17 media members scoring the fight for Casey according to MMADecisions.com.
I expect Waterson to try to keep the distance against Herrig while landing kicks and strikes.  Herrig is the stronger fighter and I think her striking has improved enough where she should be able to get the better of Waterson from the pocket if this fight stays on the feet.  Waterson also often goes for takedowns and I think Herrig's strength and grappling ability should enable her to get the better of those positions.
Overall, Waterson is simply too small for the strawweight division and I don't think she has the weapons to beat someone who has really committed to the sport over the past few years in Felice Herrig.
Play: Herrig 1.74 @ SportsInteraction.com
Tagged With : Conor McGregor • Khabib • Khabib Nurmagomedov • McGregor • UFC betting • UFC picks