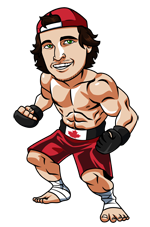 The UFC is heading to Dallas for UFC 228 next Saturday.  The card is headlined by a welterweight title fight between Woodley and Till.  I have my thoughts on this fight, which you can see below, but I'm not overly excited about it.  The co-main is a women's flyweight title fight between Montano and Shevchenko.  This is another fight I'm not too excited about with Shevchenko is more than a 10/1 favourite.  There are some other solid fights on the card though, so I will definitely be tuning in.
The UFC Fight Pass prelims begin at 6pm EST and then the televised prelims will start at 8pm and be shown on TSN 2 here in Canada.  The PPV portion of the card begins at 10pm.
I have four plays for this card.  I'm using the best odds available at any of top rated betting sites for Canadians.
Sportsbook
Features
Offers
Rating
Bet Now
1

Licensed and regulated in Canada
Easy deposits & withdrawals including Interac
Competitive betting lines
2

Licensed and located in Ontario
Entirely focused on Canadian betting market
Easy deposit/withdrawal options, including Interac
Tyron Woodley vs Darren Till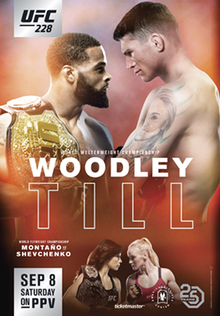 I'll admit I was disappointed when this fight was announced.  I was really looking forward to the Woodley vs Covington grudge match and I also do not feel that Till has done enough in his career to warrant a title shot at this point.  He missed weight in his fight with Wonderboy and 22 of 25 media members scored the fight for Wonderboy, which shows there was likely some home cooking behind that decision.  Especially when you consider the 3 media members who scored the fight for Till had it 48-47 Till, while 2 of the 3 judges at the event gave Till a ridiculous 49-46 win.  Outside of that robbery win over Wonderboy, Till's only other notable win in the UFC was a first round knockout of Cowboy Cerrone.  Yes, that was an impressive win, but Cowboy was severely out sized and if you look at his recent record it's not out of the ordinary for him to lose to the prospects at welterweight.  So basically a win over the #12 ranked welterweight and a home town robbery while missing weight gave Till the title shot.
Anyways, meritocracy aside this fight is happening.  That said, I'm surprised that this fight is a pick'em.  I'm also not high on Woodley, but he's proven himself as at least a top fighter in the division who is able to adapt and pull out boring decisions against a variety of skill sets.  Outside of beating Cerrone, Till is 3-0-1 in the UFC and all four of those opponents have since been cut from the UFC.  Nicolas Dalby is a mediocre level MMA fighter at best and he was able to take Till down and earn a 10-8 round to get a draw with Till in their fight.  Even though Woodley doesn't use his wrestling that often, I still think he will be able to get this fight to the mat when he needs to in order to win the decision.
Till has a path to victory because Woodley has wilted to a lot of pressure in the past, but I still expect Woodley to have a massive wrestling advantage and to be able to get the takedowns if Till overextends himself in this fight.  And let's not forget that Woodley has knockout power of his own.
This could be yet another very boring fight though.  Both guys have shown that they can play the never initiate game when they each fought Wonderboy.  If they both fight on the back foot in this fight as well we could be in a for a snoozer, but I expect Woodley to win if that is the case.  I have to take Woodley in this spot.  He's more proven and has more paths to victory.
Play: Woodley 1.95 @ SportsInteraction.com
Abdul Razzak Alhassan vs Niko Price
I was surprised to see Niko Price as an underdog in this fight.  Yes, Alhassan is a big time prospect, but he really hasn't shown a ton in the UFC.  He knocked out Charlie Ward in his UFC debut, but Ward is as far from a UFC caliber fighter as you can find.  He then actually lost a decision to Akhmedov after not being able to stuff a takedown.  Then he fought Homasi twice after a bit of controversy in their first tilt, knocking him out both times.  But Homasi is also not really UFC caliber.  This is a massive step up to Niko Price and I'm not sure we've seen enough from Alhassan to think he should be favoured.
Niko Price is now 5-1 in the UFC and all 5 of his wins are higher quality than the two opponents Alhassan beat.  He has 3 knockouts and 2 submission, always finishing his wins by the second round.  He's shown a lot of diversity to his game, including knocking out Randy Brown from the bottom in his last fight.  The guy just gets the job done.  His only loss in the UFC is to Vicente Luque who I consider a legitimate top contender threat in the division.  Alhassan probably has the faster hands in the stand up, but Price has never been knocked out and if can avoid a quick knockout I think he will find a way to get his own finish in this fight.
Play: Price 2.30 @ SportsInteraction.com
Aljamain Sterling vs Cody Stamann
Sterling had a nice bounce back win over Brett Johns after his devastating knockout loss to Marlon Moraes last December.  That said, I'm still not high on Sterling.  He cannot beat the top fighters in the division and I've really not been impressed with his wins.  Johns went on to lose to Pedro Munhoz in his next fight, which puts a damper on Sterling's performance as well.
Stamman, on the other hand, I am very high on.  He's a 17-1 fighter who is now 3-0 in the UFC.  Yes, he won splits over Duquesnoy and Caraway, but those are two very tough fights.  Duquesnoy is as explosive as they come and Caraway proves time and again that he's a very tough win in the division.
I expect Stamann to get the better of the wrestling exchanges in this fight, while also holding his own with Sterling on the feet.  Aljamain has good output on the feet, but has no knockout power, while Stamann does.  That said, I think Stamann will take this fight to the mat and as long as he can avoid a submission I expect Stamann to win rounds and get the decision victory.
Play: Stamann 2.10 @ SportsInteraction.com
Frank Camacho vs Geoff Neal
I'm not convinced Geoff Neal is UFC caliber.  Yes, he was able to get quick first round finishes of Chase Waldon in Dana White's Contender Series and then followed it up with a first round submission of Brian Camozzi in his first UFC fight, but I'm still not convinced.  Waldon is a regional level fighter and Camozzi is arguably the worst welterweight on the UFC roster.
Camacho is a guy who brings the fight and does not go down easy.  He lost his last fight to Drew Dober, but it was still a firefight and Dober has put together a nice string of wins himself recently.  Before that Camacho had an absolute fire fight in a win over Damien Brown where he showed he doesn't mind taking a punch to land one of his own.  I know Camacho is going to bring the action in this one and if he can avoid an early finish I like his chances to win a decision against Neal.
Play: Camacho 2.62
Tagged With : UFC 228 • UFC betting • UFC picks