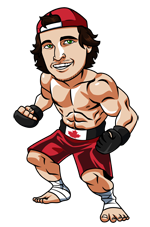 It's been a long two weeks since the last UFC event, but that break has allowed the UFC to really hype up this very solid UFC 223 PPV card.  The main event is for the lightweight title and more importantly the shot to fight Conor McGregor to unify the 155 pound belts (hopefully).  The co-main event is also a highly anticipated rematch between Rose Namajunas and Joanna Jedrzejczyk for the women's strawweight belt.  Outside of the title fights the card is very deep with a lot of recognizable fighters and meaningful matchups.
The card gets underway with the early prelims at 6:15pm EST, which can be seen on UFC Fight Pass.  At 8pm the coverage will move to TSN 5 here in Canada for a very solid four fight prelims before the PPV event start at 10pm EST.
I have four plays for the card below.  I've used the best odds available for the fighter I like from one of our top rated betting sites for Canadians.
Sportsbook
Features
Offers
Rating
Bet Now
1

Licensed and regulated in Canada
Easy deposits & withdrawals including Interac
Competitive betting lines
2

Licensed and located in Ontario
Entirely focused on Canadian betting market
Easy deposit/withdrawal options, including Interac
Max Holloway vs Khabib Nurmagomedov
****Tony Ferguson is out and Max Holloway is in to take on Khabib in the main event.  I had a long Ferguson vs Khabib write up where I picked Ferguson to win the fight at odds of 3.00.  I've deleted that and given my thoughts on the Holloway fight below.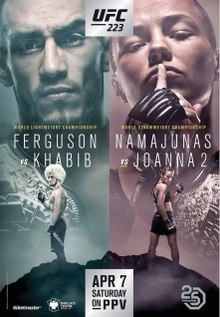 I was very excited to see Ferguson vs Khabib finally battle it out in the octagon, but Max Holloway is also a very interesting opponent for Khabib.
I had taken Ferguson at odds of 2/1, and I will be taking Holloway as well at odds of close to 4/1.
First of all, I think Holloway definitely has a chance to win this fight, so those odds are very tempting.  He's greatly improved his takedown defense in the last few years of his career and has now gone 9 fights straight without giving up a takedown.  That said, when you look at the opponents he's faced they really aren't the type of fighters who look for takedowns often.  The Ricardo Lamas and Jeremy Stephens fights were both impressive display of takedown defense for Holloway with him defending 6 attempts from Lamas and 12 attempts from Stephens, both of which normally secure about 1 in 3 of their takedown attempts.  Holloway also stuffed 3 attempts from Swanson who historically has a 52% takedown success rate.  So, Holloway obviously has strong takedown defense (you don't become a champ without it), but Khabib is on another level in that regard, simply due to his non-stop pursuit of the takedown.
I do think Holloway has the footwork and in-tight grappling ability to do damage to Khabib, while staying on his feet.  He's relentless in his own attack, so it will be interesting to see who is the aggressor in this tilt.
My concerns for Holloway include the fact he took this fight on 6 days notice and that he is coming off a recent ankle injury that kept him out of a fight just 1 month ago.  How much training could he really have been doing.  The fact he has nothing to lose in this fight also makes me question whether we will see the best Holloway or if he simply could not pass up the opportunity even though he knows he isn't at 100%.
If Holloway had a proper camp I think the odds in this fight would be similar to what they were for Khabib vs Ferguson, but because Holloway did not, then I these odds are more accurate.  I would handicap the fight around 3/1 in favour of Khabib.  So my lean is Holloway, but there are too many question marks for me to think this is a great bet.
Play: Holloway 4.80
Rose Namajunas vs Joanna Jedrzejczyk
These two fought back at UFC 217 in November last year and are getting right back at it just a few months later.  In my opinion, Joanna deserved the rematch considering she was 6-0 in title fights before this loss.
Rose really impressed me in that last fight with Joanna.  She had a great game plan of leading her combinations with a looping left hook.  That punch got through Joanna's defenses on many occasions and resulted in two knockdowns, including the final huge strike that resulted in the TKO.
That said, in rematches I generally favor the losing fighter, especially if it was obviously a technical issue that was a main reason for the loss.  Joanna had her moments on the feet as well and I still believe she is the better striker in this matchup.  If she can improve her defense against that looping lead left hook either by keeping her hand higher or by circling away from that weapon I think she should be able to get the better of the standup in this rematch.
Rose will still have the advantage on the mat, but I was impressed with how quickly Joanna was able to get off the mat after the first knockdown in the last fight and I believe her ground game is generally underrated simply because she doesn't need to use it very often.
This is a risky bet because you are banking on Joanna coming in with an improved game plan and technical proficiency to defend an attack that was getting through in their last fight.  That said, I believe Joanna is a professional who will do whatever it takes to win.  She's at a strong gym and should have a better game plan to improve on the result.  Rose is a very dangerous fighter who could end this fight at any point over the five rounds, but I think the sharp money still has to be on Joanna to get her revenge.
Play: Joanna 1.87 @ SportsInteraction.com
Calvin Kattar vs Renato Moicano
Kattar has impressed in his two UFC fights.  He was able to get the best of Andre Fili in his debut and then outclassed Shane Burgos en route to a third round knockout.  That said, I still think Kattar relies on the judges quite a bit in his fights and that's a risky proposition against a guy like Renato Moicano who is also very strong when it comes to winning decisions.  Yes, Kattar KO'd Burgos in his last fight, but I think that mostly has to do with the fact that Burgos constantly moves forward and doesn't mind getting hit.  It eventually caught up to him with him getting too aggressive and resulting in the KO.  Moicano will fight a much more defensive and technical fight, which means I don't think we will see a finish from Kattar in this one.  Before the Burgos KO he hadn't finished a fight since 2010.
I also don't expect Moicano to finish this fight, but I think he has more weapons than Kattar when it comes to getting the decision.  Moicano had 2 takedowns against both Jeremy Stephens and Brian Ortega in his last couple fights, so he has the ability to throw those in to win rounds.  Against Stephens the takedowns helped him win a split decision and against Brian Ortega he was up 2-0 on the scorecards before diving into a guillotine choke in the third round.  We now know how skilled Ortega is, so Moicano outstriking him 109-65 and adding 2 takedowns looks more impressive even though he gave up his neck late.
I think this should be a pick'em at worst.  I like Moicano at these odds.
Play: Moicano 2.25
Anthony Pettis vs Michael Chiesa
I was surprised to see Pettis as the underdog in this fight.  Pettis will have a big advantage on the feet and I'm not convinced he will even be at a disadvantage on the mat.  Chiesa will look to get this fight to the mat, but even if he gets it there I actually think Pettis has the better chance to finish the fight from the mat.
Pettis has trouble with pressure fighters like RDA and Eddie Alvarez, but I do not think Chiesa falls into that category.  He's a very good submission grappler, but so is Pettis.  I also believe that Pettis could land some big shots on the feet as well and take control of the fight from that position.
Overall, I think Pettis is being overlooked because of his recent results, but his losses are all to top end fighters.  I do not think Chiesa falls into that category and I believe Pettis will prove it.
Play: Pettis 2.10 @ SportsInteraction.com
Tagged With : UFC 223 • UFC betting • UFC picks