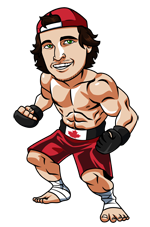 The UFC is headed back to Vegas for a PPV this Saturday in the wake of the tragedies at Mandalay Bay earlier this week.  We likely won't see quite as much buzz about this card because of the state of mourning the city will be in, and rightfully so, but it is a pretty solid card from top to bottom.
The UFC 216 early prelims start at 6:15pm EST on UFC Fight Pass, followed by 4 fights on on TSN2 at 8pm.  The main card and PPV portion gets underway at 10pm with 5 fights on the PPV card.  Check out the full schedule here.
Below I've given my 3 plays for UFC 216.  I'll be using the best odds being offered from any of our recommended betting sites for each of my picks on this card.  I expect Demetrious Johnson to win, but I won't be betting him at odds of just 1.08.
Sportsbook
Features
Offers
Rating
Bet Now
1

Licensed and regulated in Canada
Easy deposits & withdrawals including Interac
Competitive betting lines
2

Licensed and located in Ontario
Entirely focused on Canadian betting market
Easy deposit/withdrawal options, including Interac
Tony Ferguson vs Kevin Lee
I'm really looking forward to this lightweight interim title fight between Ferguson and Lee, but it's not because I expect it to be a hugely competitve fight.  I expect Tony Ferguson to get this win, but I'm excited because he's one of the most exciting fighters on the UFC roster and he's deserved a title shot for a long time.  He's continued to stay active and win fights for the past 4 years, while guys like Alvarez, McGregor and Khabib have been jumping the line in front of him.  Tony is finally in a title fight and I expect him to come away with another win.
Ferguson will be the better fighter on the feet in this fight.  We can argue about who will be better on the ground, but I don't think this fight goes there anyways, unless Ferguson puts it there later in the fight.  Kevin Lee is simply not an overly dangerous fighter on the feet and he usually takes control of fights by crowding his opponents against the fence, getting the takedown and then working for the back.  First of all, Tony won't be backing up to the fence in this fight, and secondly he is very aware to not give up his back if the fight ever does go to the ground.
Tony is the longer, more dangerous fighter on the feet and we saw in his fight against Dos Anjos that you can't pressure him to backup on the feet, which really takes away Lees best path to victory in this fight.  Look for Ferguson to piece Lee up on the feet and then once Lee gasses look for Ferguson to either finish him with a TKO or go for one of his patented choke finishes, possibly even locking in the choke while standing.
Lee isn't nearly as good as everyone seems to think.  He was bullied for the first half of his fight with Francisco Trinaldo before catching him with a head kick to move for his back, and Chiesa simply wasn't a good enough athlete to hang with Lee and was way too willing to give up his back.  Ferguson is bigger, more active, more dangerous and as long as he doesn't give up his back in a strange scramble, which I don't expect, he should be able to cruise and impose his will in this fight.
Play: Ferguson 1.45
Fabricio Werdum vs Derrick Lewis
Werdum is the more technical fighter in this fight.  He's probably better on the feet when it comes to technique and is miles ahead of Lewis if he can get the fight to the mat.  I do have my concerns with Werdum including his chin and his age, but when I see the complete lack of takedown defense by Derrick Lewis I have to side with Werdum in this fight.
If Werdum can get this fight to the mat he should be able to do some serious damage.  Other fighters such as Shamil Abdurakhimov, Roy Nelson and Viktor Pesta all got multiple takedown on Derrick Lewis in fights that they ended up losing.  The reason for those losses though was that once they got the fight to the mat they mostly just held Lewis down instead of really doing any damage.  If Werdum gets the fight to the mat he should have success against Lewis due to this advanced jiu-jitsu abilities.  If Lewis works to get up, which he did against all of those other wrestlers (and Roy Nelson who was just too small and slow to employ any effective jiu-jitsu), I expect Werdum to be able to take Lewis' back.
Werdum is a very safe fighter in the cage and he's also safe in how he picks his matchups.  He clearly thinks Lewis is a great stylistic matchup for him, which is why he requested the fight in order to get back in the win column after a loss to Alisair Overeem.  Werdum hand picks his opponents outside of top contender or title fights and he has had great success with this hand picking of opponents.  I expect him to have a great gameplan to get this fight to the mat and then to finish or at least control and damage Lewis from there.
I do have some reservations, but I still think Werdum is a decent bet at this price.
Play: Werdum 1.40
Mark Godbeer vs Walt Harris
Walt Harris is a fighter I've thought has potential for some time.  He's coming off of two big knockout wins and looks to be coming into his own in this heavyweight division.  He's by far the better athlete in this fight and in a tilt that should be a standup war he's the deserving favourite.
Mark Godbeer is coming off a decision win over Daniel Spitz, but that was an awful fight and even though he won his last outing, Spitz is one of the worst fighters in the UFC.  I wasn't impressed with Godbeer in that fight and before that he lost to Justin Ledet after getting boxed up on the feet.
Look for Harris to land the bigger shots in this fight and finish Godbeer off with strikes on the ground after a knockdown.
Play: Harris 1.36
My other leans on the card include Bobby Green at around 2.95 and Beneil Dariush at odds around 1.43.
Check back later in the week for my DK targets.
Tagged With : Kevin Lee • Tony Ferguson • UFC 216 • UFC betting • UFC picks