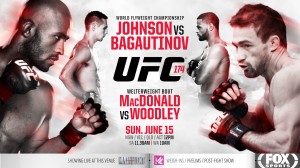 UFC 174 is taking place this coming Saturday night in Vancouver, Canada.  It's one of the biggest cards taking place in Canada this year and it includes the current most recognizable Canadian MMA fighter in Rory "Ares" MacDonald.  MacDonald is fighting Tyron Woodley in the co-main event and a very strong effort could earn either one of them a shot at the Welterweight title.  Dana White has come out and said that the fight between Matt Brown and Robbie Lawler will be a title eliminator fight, but you have to believe that this fight between the 2nd and 3rd ranked contenders will hold a lot of weight if one of the fighters can get a decisive finish.
The main event of the evening is between Demetrious Johnson and Ali Bagautinov.  Johnson is becoming one of the best champions in the UFC having defended the Flyweight title since its inception, which includes 5 wins in the UFC.  Johnson KO'd Joseph Benavidez in the first round of his last title defence and will look to do the same against challenger Bagautinov who is 4-0 in the UFC.
This is a great card with a title fight and a high profile Welterweight battle on the line.  The crowds in Canada are always bumping and they will be sure to show their support for home town boy Rory MacDonald in Vancouver this weekend.
Rory MacDonald vs Tyron Woodley
Rory MacDonald 2.20
Tyron Woodley 1.70
I was shocked when I saw that Rory was an underdog in this fight.  Me and my friend, who is huge into UFC betting were trying to handicap the fight before the odds were released and we had MacDonald as close to a 2/1 favourite.  MacDonald did stumble in his fight against Robbie Lawler at UFC 167, but you could tell he wasn't himself in that fight and he still only lost by a split decision to a guy who has been dominating and almost won the Welterweight belt.  It's true that MacDonald's victories aren't as impressive now that Ellenberger was also destroyed by Lawler and Maia lost to Jake Shields (who has since been dropped by the UFC) in his prior fight.  That said I still feel that Rory MacDonald is the top fighter at the Welterweight division and I expect him to prove it this Saturday.
Woodley is a fierce competitor who has a ton of weapons, both standing and wrestling, but his wins aren't all that impressive either.  He also lost to Jake Shields and only really has big wins over Josh Koscheck and Carlos Condit recently.  I'm not one of the guys who thinks his Condit win was a fluke because he was clearly dominating that fight, but Condit was the perfect matchup for Woodley, so I'm not convinced he is as good as his hype.  I'm expecting MacDonald to get through round one then take control of the fight and hopefully get the finish.
Demetrious Johnson vs Ali Bagautinov
Demetrious Johnson 1.17
Ali Bagautinov 5.50
Demetrious Johnson should win this fight.  Bagautinov hasn't really impressed too much in the UFC yet, but because there aren't that many serious contenders at Flyweight he gets the nod against Johnson who has ripped through most of the division already.  Wins over John Lineker and Tim Elliott are impressive, but these fighters are ranked 7th and 9th in the Flyweight division respectively.  Bagautinov simply hasn't fought anyone in the same class as Johnson and I expect him to be outclassed on Saturday.  I'm expecting Johnson to finish the fight in one of the later rounds.
Other Winners I Like:
Cavalante over Bader @ 2.10
Schaub over Arlovski @ 1.72
Ovince St Preux @ 1.70
Tagged With : Ali Bagautinov • Demetrious Johnson • Rory MacDonald • Tyron Woodley • UFC betting