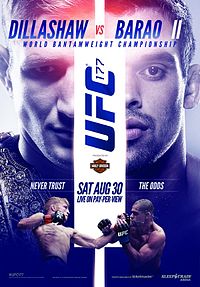 TJ Dillashaw and Renan Barao are back in the octagon with a rematch of their Bantamweight title fight just 3 months ago.  In that fight Dillashaw absolutely dominated Renan Barao before knocking him out in the 5th round with a head kick followed by punches.  After such a dominant performance many MMA fans were wondering why Barao was getting a rematch so quickly.
The most obvious reason for this is that Barao has been so dominant for so long that he deserved a rematch right away.  Barao may not be as well known as perennial champions like Jon Jones, Anderson Silva or GSP, but believe it or not he was on a 32 fight professional winning streak before this loss.  He had also won his 7 UFC fights since they adopted the Bantamweight division steam rolling through the division and defending his belt 3 times.  I'm eager to see if he can bounce back in this fight.
TJ Dillashaw vs Renan Barao Prediction
T.J. Dillashaw 1.65
Renan Barao 2.35
Dillashaw almost finished Barao in the first round of their last fight and then absolutely dominated for almost 25 minutes.  It's hard to look at that fight and then think that 3 months later is going to be all that different.  That said Barao will now know exactly what to expect when facing Dillashaw.  He's up against a very fast fighter who changes angles and has a somewhat unorthodox fighting style.  If he is able to adapt he may be able to use his experience in order to find a way to win.
If you look at the history of rematches the loser does often come back and win the second fight.  This is of course only when the original winner isn't that much better than the challenger.  That's what will be interesting about this fight.  If Dillashaw can once again dominate Barao then we can really start talking about just how good this kid might be.
Based on the odds I'm taking Barao, but I really don't know how this fight is going to play out.  I just have to give Barao the benefit of the doubt for being so dominant for so long.  He may have just not been ready for Dillashaw's fighting style in their last meeting and he also could have fought hurt after almost being finished in the first round.  There are a lot of question marks that will be answered this Saturday.
Play: Barao 2.35
Tagged With : Renan Barao • TJ Dillashaw • UFC 177 • UFC betting