The Rangers return to Target Field tonight for the second of three games against the Twins. Texas suffered a 3-2 walk-off loss at the hands of the Twins last night and they're sure to be out for revenge tonight. Elvis Andrus belted a 2-run shot to left field in the second inning to stake the Rangers to an early 2-0 lead. Minnesota then turned up their game in the dying innings having a two run bottom of the 8th to tie the game before ultimately walking off in the bottom of the 9th on an RBI double by Eduardo Escobar. Tonight the Twins will send right-hander Mike Pelfrey to the mound to face a potent but inconsistent Rangers lineup. Pelfrey last faced the Rangers in June where he was lit up for 8 runs on 11 hits through just 3.2 innings.
Prediction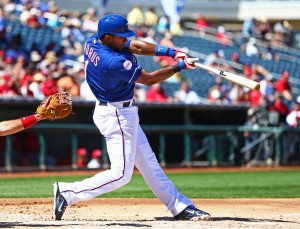 Making my rounds through the MLB world this morning I found this matchup just jumped out at me. To put it nicely, Pelfrey is not a good pitcher and although he's better at home than he is on the road he's still a strong candidate for my 'Gas Can of the Night'. He's faced with an awfully tough matchup as this potent Rangers lineup can explode for runs at any point (see the 11th inning in Seattle last Saturday). Of course, his history against the Rangers isn't inspiring any confidence in him either.
Pelfrey comes into tonight's affair sporting a season long ERA of 4.06 against a Texas team that crushes righties to the tune of a .323 season long wOBA which is good for 7th best in the league. Pelfrey has almost no strikeout potential as he's only thrown 58 through 122 innings pitched this season. Combine this with the fact that over the last 14 days Texas has only struck out 19% of the time which is below the 14 day league average of 20.5%. This Texas team has a strong mix of left and right-handed bats in their lineup and this goes a long way as Pelfrey has been giving it up to both sides of the plate. Against right-handed bats this season, Pelfrey is being hammered for a .356 wOBA and has an awful WHIP of 1.46. Against lefties, things don't get any better as he's been tagged for a .334 wOBA and a horrifying 1.62 WHIP. As a whole, Pelfrey is giving up a 73.2% FlyBall Rate which really bodes well for our chances of hitting this total if the Rangers' bats get a hold of one. With the amount of powerful bats this Texas team can roll out I'm feeling really good about this bet. Most notably in the Rangers lineup is Prince Fielder as he's 10/28 lifetime against Pelfrey with 3 HRs and 13 RBIs while Adrian Beltre and Mitch Moreland have both homered off him as well. One additional tidbit that is enough to lock this bet in is the fact that Vegas has Texas at 4.3 runs today so us getting a flat 4 on some sites rather than a 4.5 run total is huge.
Play: Texas Rangers over 4 @ 1.84 on PinnacleSports.com
Tagged With : Free Play • Pinnacle • Sports • Team Total • Texas Rangers