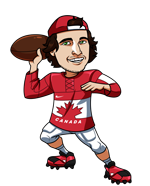 It's always a lot of fun betting on some of the more weird and wacky prop bets that sportsbooks offer for the Super Bowl.  Every year it seems like the bookies try to outdo each other with more off-the-wall prop bets.  I think these type of bets add an extra layer of excitement outside of the actual football game and in certain cases they can even provide some good value as a wager.
Below I will look at a few of the novelty Super Bowl prop bets offered by SportsInteraction.com, our top rated betting site for Canadians.  I'll give my pick for each of the props, but I do not advise placing a bet based on my picks because I do not have any inside information on any of these props.  This article is instead meant to show you some of the more interesting non-game related bets you can make on Super Bowl 52.
Length of National Anthem
Over 120 seconds (1.69)
Under 120 seconds (2.05)
To start off the broadcast Pink will be singing the USA National Anthem.  The over/under is set at exactly 2 minutes and I have a feeling Pink is going to milk this opportunity and go over that time limit.
Here's a list of the last 5 Super Bowl National Anthem lengths:
Luke Bryan 2017 – 2:04
Lady Gaga 2016 – 2:09
Idina Menzel 2015 – 2:04
Renee Fleming 2014 – 1:54
Alicia Keys 2013 – 2:35
It was really Alicia Keys super long rendition that pushed the norm for Super Bowl National Anthems over 2 minutes.  Prior to her performance in 2013 only 1 of the previous 5 Nation Anthem singers went over the 2 minute mark.
I wasn't able to find any recent Pink renditions of the National Anthem, but she definitely has the pipes to prolong the song and I think with the norm now above 2 minutes she should continue that trend.
Justin Timberlake's First Song
The next big performer is Justin Timberlake who will be headlining the half-time show.  I'll be honest, I have absolutely no clue what JT will open his performance with, so I'm not even going to bother guessing.
Winning Coach Gatorade Shower
Lime/Green/Yellow 3.10
Orange 4.35
Water/Clear 4.85
Blue 5.05
Red 5.30
Purple 12.00
Last year Bill Belichick somehow managed to avoid a gatorade shower when the Patriots won the Super Bowl, but that hasn't kept the oddsmakers from coming back out with this beloved Super Bowl prop.  In 2015, when the Pats beat the Seahawks, Belichick was doused with both orange and blue coloured gatorade, so it's not like he's immune to the tradition.
I personally like taking the water/clear bet on this prop because I just don't like the thought of the coaches having to go through all of the on field interviews and trophy presentation covered in the sticky liquid.  At least if it's water the coach is just wet, not wet and sticky.
Who Will MVP Thank First
Team 2.95
God 3.80
Wife/Partner 6.20
Coach 7.20
City 9.00
Owner 11.00
Family 14.00
None of the above 3.35
This is another one I have no clue about, but I think the teammates pick makes the most sense.  The MVP has to give his teammates props before moving on to other thank yous.
Will Tom Brady's Throwing Hand Be Bandaged?
It will have been another two weeks since the Conference Championship game with the Jags, so I doubt Brady will be wearing a bandage on his throwing hand.  This is the type of prop bet you can get more information on as the week progresses, so don't bet this one right away, but instead wait to hear about how he is practicing, etc.
As you can see there are some pretty outrageous prop bets available for the Super Bowl.
Our other recommended sportsbooks Bodog.eu and Bet365.com have a ton of props of their own, so check those out if you want even more variety.
Tagged With : Super Bowl 52 • Super Bowl prop bets • Super Bowl prop betting • Super Bowl props