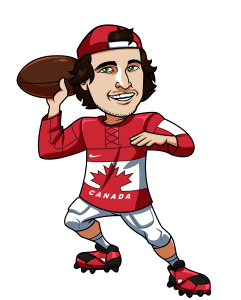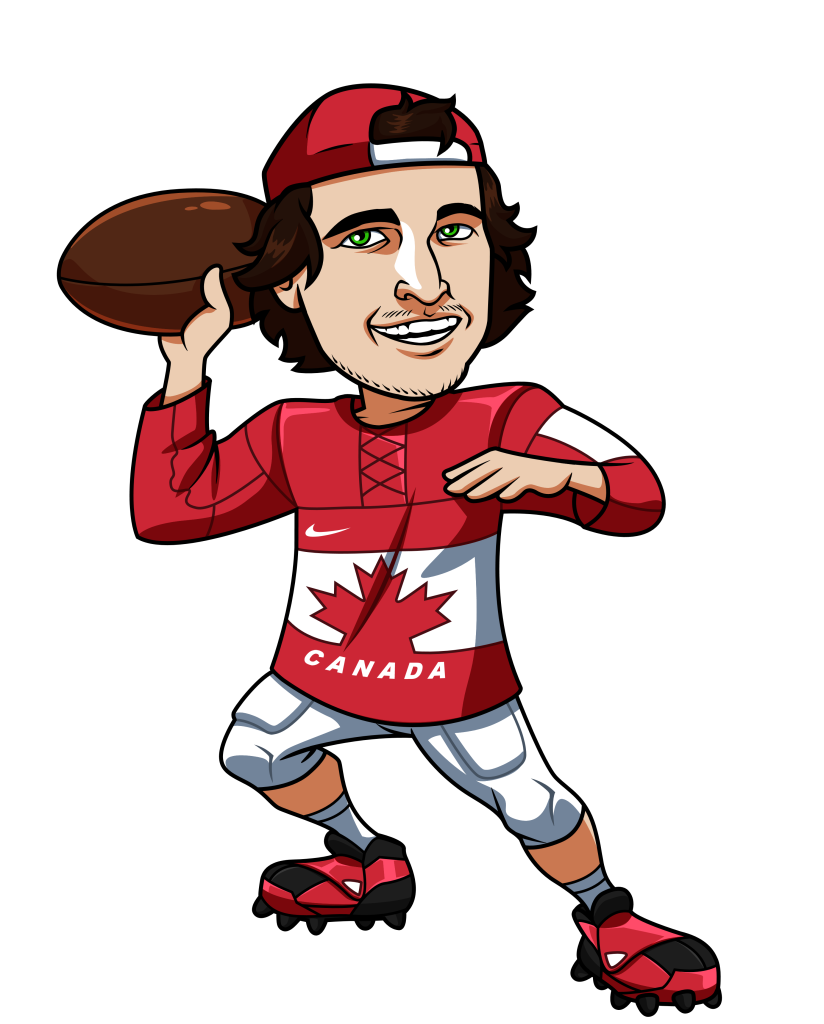 One of the main story lines of Super Bowl 50 is the quarterback battle between Cam Newton and Peyton Manning.
On one side you have a young athletic quarterback, who many consider to be a little bit over the top in terms of his celebrations and on field antics, but who is without a doubt the MVP to this point in the season.  He's won 17 games and put up big offensive numbers without many high end "weapons" at receiver.
On the other side you have Peyton "The Sheriff" Manning.  A true living legend and one of the best quarterbacks to ever play the game.  He's been criticized a ton throughout the season for poor play and lack of production, but he still put together a 9-2 record as the starter this season and his knowledge of the game and ability to manage and still provide offense when needed has been exactly what the Broncos needed.
It's a true clash of styles at the QB position and the prop bets definitely showcase this contrast.  I'll take a look at a few of the QB props available at SportsInteraction.com and give my throughts below.
Super Bowl MVP
Cam Newton -135
Peyton Manning +315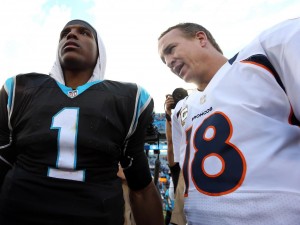 Let's kick things off with the MVP odds for these guys.  Yes, anyone can win the MVP of the Super Bowl, but let's be honest.  It's almost always a quarterback and the way this game is set up there is a great chance one of these men win the honour.
Cam is the big favourite because the Panthers offense rolls through the big, athletic man with a cannon for an arm.  If he can find a way to put up points against this Denver defense he deserves the MVP.
Peyton probably won't have the numbers to justify the MVP, but a big game winning drive at the end of the game would be enough to sway the voters.  It would just be the cherry on top of his potentially last game if he went out as Super Bowl MVP and you have to know that the voters realize that.  At these odds I'd take a flyer on Peyton.
First QB To Be Sacked
Petyon Manning 1.83
Cam Newton 1.83
I don't expect Peyton to take many hits in this game early.  Cam may try to do too much against this defense and that can often result in a sack.  I think the smart money would be on Cam getting sacked first in this game.
Total Passing Yards – Peyton Manning
Over 237.5 (2.00)
Under 237.5 (1.69)
I think this will depend a lot on if the Panthers can build an early lead like they did in their previous two playoff games.  If they do, it will force Peyton to throw the ball more, which should result in the over hitting here.  That said, the smart money is probably on the under here.
Total Passing Yards – Cam Newton
Over 242.5 (1.83)
Under 242.5 (1.83)
I would go with the under here as well.  I just don't see the long bomb throws working against this Broncos secondary, which could leave Cam forced to find other ways to move the ball.  I expect a lot of short throws to Olsen, as well as Cam picking up yards with his feet in this game.
Longest Pass Completion – Cam Newton
Over 36.5 yards 1.67
Under 36.5 yards 2.05
I love the under here.  Cam has made a habit of connecting on long balls this season, but he hasn't played a defense as strong throughout as the Broncos.  Yes, it only takes one to hit to win this bet on the over, but looking at those odds I'm on the under here.
Throw an Interception – Peyton Manning
If the Broncos defense is able to slow down the Panthers as much as I expect them to, I don't think we will see a lot of risks from Peyton.  He will try to move the ball in the safest possible way and that includes avoiding the turnovers.  Even though this Panthers defense is opportunistic, I'm expecting a safe low scoring game with Peyton taking what the defense gives him and not forcing anything that can hurt his team.
Total Rushing Yards – Cam Newton
Over 40.5 (1.71)
Under 40.5 (2.00)
Like I said earlier, I expect the Broncos to take away the long bomb from Cam in this game.  This should result in Newton choosing to run more often to pick up the first downs and move the chains.  I really like the over in this spot.  You also have to take into account Newton's personality and the fact that this is the last game of the season.  There is less need to be careful when running the football and "go for broke" a bit more when you know it's the last game of the season.
Total Rushing Yards – Peyton Manning
Over 0.5 (2.20)
Under 0.5 (1.59)
It only takes one decision to run the ball to cover this rushing yards spread.  We all saw Peyton lumber for the first down in the Conference Championships and how pumped everyone on the bench was.  With these odds I think Peyton making a lunge for a few yards at some point in this game is a good bet.
So there are a few of the different QB prop bets you can wager on at SportsInteraction.com.  There's several more which you can see on their site under 'Football' and 'Super Bowl Player Props'.
Click here to check out all the Super Bowl props at SportsInteraction.com…
Tagged With : Cam Newton • Peyton Manning • Super Bowl 50 • Super Bowl props