Spain and Holland play each other in their first game of the 2014 World Cup.  It just so happens that this is a rematch of the 2010 World Cup Finals!  The last game of the 2010 World Cup Finals, is the third game of the 2014 World Cup.  Personally I think it's unfortunate that these two powerhouses are in the same group, but because Holland was ranked #8 in the world at the time of the drawing (and Brazil automatically was included in the top ranked pot) of the groups they were pushed out of the "top ranked" pot and were forced to draw a team from the top ranked pot, which just so happened to be Spain.  This difference between being ranked #7, which strangely enough was Switzerland and #8 could play a big factor on both Holland and Spain's chances of getting out of their group in Brazil.
I should note that I am a Dutch supporter, so take my free pick with a grain of salt because it may be slightly biased.
Spain vs Netherlands Odds
Here are some of the odds for this match from the top sportsbooks online.  I'll focus on the 1×2 odds in this article.
There's a ton of other bets that you can place on this match.  For example, Bet365.com has 131 other lines that you can bet on for just this one match!
My Pick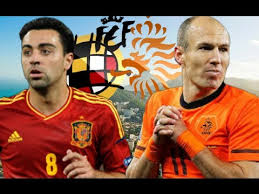 I think Spain is being overestimated in this match up and this World Cup in general.  They have won their three tune-up matches for the World Cup in 2014 and haven't given up a goal in these matches, but they haven't really been dominant and apart from a 1-0 win over Italy, Bolivia and El Salvador are weaker teams than what they will face in Holland.
The critics have been particularly hard on the Dutch teams chances this year because they are fielding a relatively inexperienced team.  That said the Results have continued to be ok and their defense, which the experts are saying may be their weak spot has held up quite well.  They have drawn Ecuador 1-1, beat Ghana 1-0 and beat Wales 2-0 in their most recent 3 tune-up games for the World Cup.  These were all played in Holland though, so it will be interesting to see how the team plays on the road in Brazil.
My favourite bet on this game is a draw at 3.46 odds.  These teams were 0-0 through regular time in the World Cup Finals and both will go through a feeling out stage early in this one because it's the first game of the World Cup.  Being the two favourites in this group, both teams will not be too disappointed with a draw.  I see this being a fairly defensive battle with both teams sacrificing offensive chances to stay strong defensively.  That said if either team does score in this game, both sides have the talent and ability to mount an offensive and tie the game up.  For this reason I really like the draw odds of 3.46 that can be found at SportsInteraction.com.
My Pick: Draw
I'm also going to be placing a 0-0 correct score bet with odds of 7.00 from Bet365.com.

Tagged With : Netherlands • Spain • World Cup betting