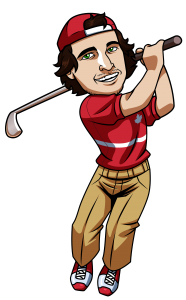 The Shell Houston Open is here this weekend and it's the final tune-up event before The Masters.  It's a very good field in Houston this year, with several top end players looking to get the final kinks out of their game before trying for that first Major of the year.
The Golf Club of Houston has many similarities to that of Augusta National, which is one of the main reasons this tournament is able to draw in an all-star class each year.  The course measures 7,441 yards and over the past several years you will have noticed that it's generally top players that perform well.  I'm looking at players who have a strong greens in regulation percentage for this golf course and I'm also leaning towards those who are a little bit longer off the tee to make the approach shots that much easier.
Below are a few picks I will be tossing some action on this week.  The odds are all from SportsInteraction.com.
Rickie Fowler 13.00
Rickie has had a ridiculously strong year so far and it still seems to get overlooked at times.  In 2016 he has a 5, CUT, 2, T6 and T8 in five very strong tournaments with elite golfers.  He ranks 5th in greens in regulation on the PGA tour through 2016 with a 72.86% rate and also hits the ball pretty far with the 29th longest average drive on the PGA Tour.  He fits this course very well and Rickie is the kind of player who if he can avoid the typical one or two holes a tournament that can derail his weekend, then he has as good a chance as anyone in this field.
Dustin Johnson 16.00
I also like DJ in this tournament.  He's quietly been playing some very good golf heading into the tournament as well, having not missed a cut in 7 tries this year.  Everyone knows how proficient he is with the driver, but he also has a relatively good GIR as well with a 69.21% rate of greens in regulation.  We are all still waiting for Johnson to get over that hump in a major and a good week here could put him in the right state of mind going into the Masters.
Sergio Garcia 29.00
Sergio has played in this tournament three times in the past and he's made the cut every time and finished with a high of third place.  He is ranked 9th on tour in greens in regulation and he is no slouch off the tee.  Sergio is still one of the top players in the world and he often gets overlooked lately based on his lack of wins in the past few years.  It's only a matter of time before Sergio gets that monkey off his back and I think he has a very legitimate chance to be among the leaders heading into Sunday this week.  After that, anything can happen.
JB Holmes 31.00
JB Holmes is the defending champion at this tournament and he also managed a runner up finish a few years back.  Even though the course doesn't seem like it would set up too well for Holmes' style of play he's definitely found a way to move the ball around the course and if his putter gets going this week like it has in the past he has a great shot.  At these odds I think a flier on Holmes is worthwhile.
Those are four players I will be watching this week at the Shell Houston Open.  Check back next week for some more in depth articles regarding The Masters!
Tagged With : Golf betting • Golf Odds • Shell Houston Open