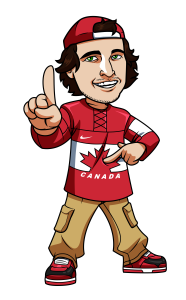 Beach volleyball is always one of my favourite sports to watch during the Summer Olympic Games. Canada will not have a Men's team participating in the beach volleyball event after Canada failed to qualify, but we will have two Women's teams with a shot at the gold medal.  Sarah Pavan and Melissa Humana-Paredes are the defending World Champions and they will enter the tournament as third favourites to win the gold medal with odds of 13/2 entering the tournament according to BetOnline.ag. The other Canadian team of Bansley and Wilkerson are also contenders with odds of 10/1 to win the gold.
Men's Beach Volleyball Odds
Here are the odds for favourites in the Men's tournament from BetOnline.ag:
There are the odds for the 10 favourites in the beach volleyball tournament.  The Norway duo of Anders Mol and Christian Sorum are big favorites to win the tournament, while the Russians and Brazilians are also top contenders.
Women's Beach Volleyball Winner Odds
The Canadian duo of Sarah Pavan and Melissa Humana-Paredes are third favourites with odds of +650. The other Canadian duo of Bansley and Wilkerson are not listed, but they are 10-1 at Bet365.com.
My Pick
You can call me a homer, but I like Pavan and Humana-Paredes to win the Women's Beach Volleyball tournament at odds of +650. They are the current World Champions and they have a clear path to the knockout round with no other top contenders in their pool. This path to the knockout round should allow them to settle in and find their game after not playing that many competitive beach volleyball matches over the past year.
Once in the knockout round I like their chances against anyone in the world.
Play: Pavan – Humana-Paredes +650
Other Beach Volleyball Betting at Olympics
BetOnline.ag will also be taking bets on every individual beach volleyball match throughout the Olympics Games.
I expect they will be offering money line (to win), point spread, and total points betting lines for each match.
To find the Beach Volleyball betting lines, open the 'Other Sports' and 'Olympics A-D' drop down menus in the BetOnline sportsbook..
Ready to bet? Click here to visit BetOnline.ag.
Tagged With : beach volleyball • beach volleyball betting • Olympics beach volleyball • Rio 2016 beach volleyball