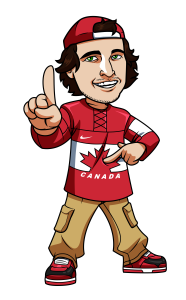 We are just one day away from the 2022 Winter Olympics Opening Ceremony, which takes place this Friday morning at 6:30am EST. After that opening ceremony we are going to be treated to two jam packed weeks of Winter Olympics action! The Olympics is a massive event around the world and in Canada the coverage is second to none with CBC, TSN and SportsNet providing coverage of basically every sport in the Olympics, with a keen eye on our top Canadian athletes. I will personally have the TV on in the late evening and early morning for two weeks straight, with plenty of betting action on several events in these Olympic Games.
The Olympics always brings out new sports bettors who want to add a bit of excitement to their Olympics viewing experience and also cash in on their Olympics knowledge. It's for these people that I've decided to add this simple guide to betting on the Olympics in Canada.
Bet On Beijing Olympics in Canada – How To Guide
Follow these three steps and you will be placing your Olympics bets in just a few minutes.
#1. Open An Online Betting Account
First of all you'll need to open an account with a reputable online betting site. SportsInteraction.com is our top rated site for Canadians looking to bet on the Olympic Games. Sports Interaction is focused on the Canadian betting market, and this allows them to fully customize their sportsbook to what Canadians are interested in betting on, and also completely focus their efforts on ensuring the betting experience is safe, simple and secure for Canadians.
Sportsbook
Features
Offers
Rating
Bet Now
#2. Deposit
You'll need some money in your account in order to place your Olympic wagers. As I mentioned earlier, Sports Interaction is completely focused on the Canadian market, and this definitely translates into simple and secure deposits and withdrawals for Canadian sign ups. Check out our deposit methods information page to learn more about some of the deposit options you can use at Sports Interaction.
#3. Bet On The Olympics
Now that you have funds online you're ready to place your Olympics bets.
Once on the Sports Interaction website you'll see 'Winter Olympics' in the left sidebar of the sportsbook. From this drop down menu you can navigate to all of the various Olympics events and find the athlete or team you're interested in betting on.
You will also be able to find the betting lines by going in through the sport. For example, if you click on 'Hockey' -> 'Olympic Mens' or 'Olympic Womens', you will see the Olympics games that you can bet on. Sports Interaction has made it very easy for you to navigate to the Olympics events that you want to bet on.
If you're new to betting online I suggest check out some of the articles in our betting guide section. They are very helpful and should ensure that you understand the odds and what it is you're placing your bets on.
I think that's it. Ready to bet? Click here to visit SportsInteraction.com.
Tagged With : bet on Olympics • Olympics betting