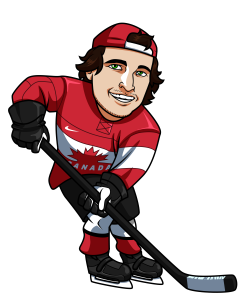 Who is going to finish the season with a better goals against average?  Tuuka Rask or Jonathan Quick?
Who's going to score more goals?  Stamkos or Ovechkin?  Tavares or Seguin?  Iginla or Hossa?
I for one have these talks with my friends all of the time so it was pretty awesome to see that SportsInteraction.com is taking bets on these type of props.  There are a ton of different player vs player bets that you can currently make at SportsInteraction.com for the 2014-15 NHL Season.  The four categories that SIA are currently offering include Goals Against Average and Save Percentage for goaltenders and Goals & Points for players.
I'm going to share with you a few of the different head to head props that I'm going to be betting on below.  If you want to see the full list of head to head props available, click here to visit SportsInteraction.com and then select 'Hockey', followed by 'NHL Props'.
GAA – Cory Schneider 1.80 vs Brian Elliott 1.95
These tenders finished 2nd (Elliott 1.96 GAA) and 3rd (Schneider 1.97 GAA) last season and they both will now be taking over the sole duties of the #1 goaltender on their respective teams.  I personally think that Schneider is the better goaltender here, but I like Elliott to finish with a better GAA based on the strength of the Blues team defense.  The Devils brought in some players to boost their offense this season which could result in more goals going in both the oppositions and their own net this season.
Play: Elliott 1.95
Goals – Tyler Seguin 1.87 vs Evgeni Malkin 1.87
I don't see Seguin taking a step backwards this year.  In fact, the addition of Jason Spezza to the powerplay may result in Seguin upping his goals total even more.  Malkin has the ability to score a ton of goals, but he has a hard time staying healthy for a full season and we haven't seen him really dominate in a few years.
Play: Seguin 1.87
Goals – Alex Steen 1.69 vs Jeff Skinner 2.15
Steen had a strong year last year, but it was a bit of an anomoly and he slowed down significantly after a very hot start.  Skinner is still improving and I expect him to build on last years totals once again.  This is an easy bet on Skinner for me, who will be looked towards to provide a lot of offense in Carolina.
Play: Skinner 2.15
Goals – Jarome Iginla 1.87 vs Marian Hossa 1.87
Hossa will score more goals per game than Iginla this season.  The question is just whether Hossa will play in enough games to win this battle.  I think he will.  Iginla will be playing with some solid young guns in Colorado, but Hossa will surely be lining up with either Kane or Toews and that results in goals for the man who is still one of the best possession players in the league.
Play: Hossa 1.87
Goals – Brendan Gallagher 1.77 vs Mika Zibanejad 2.00
Zibanejad has a higher upside than Gallagher and this season he will be getting the opportunity to play in the Sens top 6 for likely the entire season.  He will also see more powerplay time and be expected to produce offensively.  Gallagher is really a third line player on the Habs.
Play: Zibanejad 2.00
Points – Evgeni Malkin 1.63 vs Claude Giroux 2.25
Giroux had a horrible start to the season last year and still finished 3rd in scoring.  In the final three quarters he was arguably the best offensive player in the league.  I don't expect him to slow down this year, which should keep him similar to Malkin's points pace as well.  The difference may be that Malkin rarely plays a full season anymore.
Play: Giroux 2.25
Points – Jakub Voracek 1.80 vs Wayne Simmonds 1.95
In the battle between teammates I think that Voracek has a bigger upside than Simmonds.  Wayne may get a lot of points on the powerplay, which could turn the tide in his favour, but I think Voracek will be used on the PP a lot as well, and then when you factor in his speed to create chances even strength I expect Voracek to win this race.
Play: Voracek 1.80
Points – David Desharnais 1.87 vs Radim Vrbata 1.87
I'm expecting a resurgence of the Sedin twins this year and it looks like there is a good chance that Vrbata will be on their line for a good chunk of the season.  I think this sets him apart from Desharnais, who will likely once again get around 50 points.
Play: Vrbata 1.87
Those are just a few of the options.  There is literally over 100 head to head match ups that you can look at.  Check out http://www.sportsinteraction.com to see the odds and place your bets.
Tagged With : NHL Player Props • NHL Season Bets • Prop Bets