The Dodgers step back into Great American Ball Park in Cincinnati tonight as they look to further their lead on the National Lead West division. LA took the first game of this three game series last night when they beat the Reds handily by a score of 5-1. The Dodgers got big boosts from Justin Turner and Jimmy Rollins as they both went deep for 2-run homers in the game.
Tonight, LA sends lefty Brett Anderson to the mound to duel with yet another 'Gas Can of the Night' leading candidate in David Holmberg. Anderson picked up an 8-3 win in his last meeting with Cincinnati as he allowed three runs on six hits over six innings. Holmberg on the other hand lasted only 2+ innings that game as he was crushed for seven runs on five hits which included three homers. Holmberg did not improve in his next start either when we targeted him against the Diamondbacks as he gave up five runs on eleven hits in five innings of work.
Analysis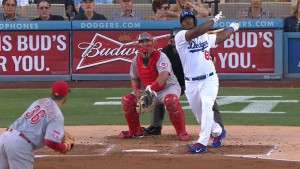 The Dodgers are in an absolutely awesome spot to build some momentum after their win last night. Season long, LA has been the fourth best team on the road in terms of wOBA at a clip of .317. This is a very positive sight for us as they face an extremely expendable pitcher in Holmberg. Holmberg has been crushed from both sides of the plate this season and tonight I expect that to continue. The Dodgers are a rather righty-heavy lineup and this bodes well as Holmberg has been surrendering a .397 wOBA to righty bats this season. His 20.3% Homerun to FlyBall ratio is astronomically high as well. In fact, 43.4% of balls hit off him have resulted in flyballs and although not all of them leave the park, the fact that his HR:FB ratio is so high gives me a good feeling about this one. To lefty batters, Holmberg reduces his wOBA to .367 but that is still extremely high. His Homerun to FlyBall ratio to lefties is almost the exact same at a flat 20%. With a walk rate of 11.9% and a WHIP of 1.57, I expect to see a lot of Dodgers baserunners tonight. Holmberg has a very low K/9 (5.27) and Swinging Strike rate (6.8) as well so I can't see him working his way out of any jams he inevitably finds himself in. Although the Dodgers have a very limited BvP sample against Holmberg as they chased him so early from the last game; Kike Hernandez, Yasiel Puig and Adrian Gonzalez have all homered off him.
On the other side of the ball, Brett Anderson has put together a very respectable season which sees him tote a road wOBA of just .301. He's been strong to both sides of the plate as well recording a .315 wOBA to righties and .305 to lefties. The Dodgers are in a great spot tonight.
Play: Los Angeles Dodgers @ 1.609 on PinnacleSports.com
Tagged With : baseball • Cincinnati Reds • Free Play • Los Angeles Dodgers • MLB