Kansas City rolls into Globe Life Park in Arlington today to kick off a four game series against the Texas Rangers. The Royals come in flashing a very respectable road record of 9-6 while the Rangers boast a horrid, major league-worst home record of just 3-9. The Rangers do come into tonight's action off a successful road trip however, in which they went  5-2 including a 2-1 win over the Tampa Bay Rays last night. Recent success aside, the Rangers have won just one game in their last seven at home. KC posted a successful start to their seven game road swing as they took 2/3 games in Detroit. The Royals narrowly escaped with a 10th inning, 2-1 win last night as Jason Frasor and Greg Holland worked out of bases-loaded jams in the 9th and 10th frames respectively.
Prediction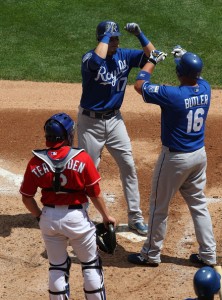 Texas sends veteran right-hander, Colby Lewis to the mound tonight. Lewis is just 2-2 on the year despite starting 6 total games. He comes in sporting a respectable ERA of 2.61 and pretty solid WHIP of 1.08. Lewis, however, has struggled mightily against KC bats in his career. He's 1-4 in 6 career starts against them and has a monstrous ERA of 6.35. This, coupled with the fact that Texas has given up at least 7 runs in each of their last three home games, does not bode well for the Rangers' hopes of a win tonight. Further adding insult to injury, Texas has managed to score just 2 runs in each of their last 3 games. This isn't such an obscure stat or run of bad luck when you consider the Rangers have averaged only 3.87 runs per game this year, good for 21st overall. Compare that to the Royals' average output of 5.03 RPG (3rd overall), and we find ourselves a clear edge in favor of the Royals.
Kansas City calls upon left-hander, Danny Duffy for tonight's game. Duffy has gone 2-1 on the year thus far as he looks to further improve his record. He comes into the game having never faced the Rangers, a positive sign for those of us backing the Royals. Boosting our confidence even further is an array of successful trends the Royals have experienced with Duffy on the mound, these include:
Royals are 9-0 in Duffy's last 9 starts during game 1 of a series.
Royals are 5-0 in Duffy's last 5 Monday starts.
Royals are 14-3 in Duffy's last 17 starts as a favorite of -110 to -150.
The Royals are a far superior team in my eyes. They potentially have the most well-rounded team in all of baseball and their 20-11 record is a good indication of that. Having gone 21-5 in their last 26 games against American League West opponents, we're left with no choice but to back them tonight.
Play: Kansas City 1.77 @ SportsInteraction.com
Tagged With : baseball • Free Play • Kansas City Royals • Texas Rangers