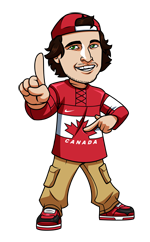 It's fight week! The rematch we have all been waiting for is just days away. Deontay Wilder and Tyson Fury are set to run it back this Saturday February 22nd at the Grand Garden Arena in Las Vegas. Wilder's WBC title will once again be on the line.
The two met back in December of 2018 in a fight that would become an instant classic. With Tyson Fury up on the scorecards, Deontay Wilder knocked Fury to the canvas in the 12th round with a punch that looked like nobody would be able to get up from. Somehow, Fury was able to get back to his feet and take the fight to the scorecards. That 10-8 round though was enough for the fight to end in a split draw, which set up this rematch, now over 1 year later.
The story lines in this fight are nearly endless and I for one can't wait for Wilder vs Fury II. Both fighters remain undefeated (both won 2 fights since they last fought each other) and most would agree these are now the two best heavyweights on the planet. Fury has his point fighting style, while Wilder can knock anyone out with one punch. After watching these two fight for 12 rounds we know exactly what both guys need to do to get the win.
This is a must-see fight for sports fans and I'm expecting plenty of people new to betting wanting to get action on the fight. If you're a Canadian that's interested in betting on this Wilder vs Fury boxing match follow the three step guide below to get your bets placed online.
Best Sportsbook for Canadians
Bet On Wilder vs Fury in Canada – 3 Step Guide
Step 1. Join an Online Betting Site
First you will need to join a sports betting site that accepts Canadian players. SportsInteraction.com is our top rated betting site for Canadians looking to bet on the Wilder vs Fury fight online.
Sports Interaction is entirely focused on the Canadian sports betting market, which means their betting platform, deposits/withdrawals, promotions and customer service are all catered towards Canadian players. Here's our full review.
Click here to join SportsInteraction.com.
Click 'Bet Now' on the landing page and fill out the sign up form to open your account. **By joining through our link you will receive an exclusive 100% matching bonus up to $200 on your first deposit.
Step 2. Deposit Funds
After opening your account you will have to deposit the funds you want to bet on the fight.
Log into your account and click on the 'Deposit' button in the top right corner, choose one of the deposit methods and follow the instructions to complete your deposit.
You can see breakdowns of some of the options on our deposit methods page.
Step 3. Place Your Deontay Wilder vs Tyson Fury Bets
It's now time to bet on the boxing match!
To find the Wilder vs Fury odds at SportsInteraction.com, click on 'Boxing' from the left sidebar in the Sportsbook.
Here's a screenshot of the current odds (taken on February 18th):
There will be more prop betting options added closer to the fight. Check out our boxing section for a more detailed breakdown of the different bets you can make on the fight.
I'm personally placing a bet on Deontay Wilder. It only takes one punch from him, and I don't think Fury will be able to get up from a power shot like that a second time. Fury is the more technical fighter, but he's talking a lot about going for a knockout in this fight, which could open up more holes for Wilder to land his power.
Ready to bet? Click here to visit SportsInteraction.com.
Tagged With : boxing betting • Deontay Wilder • Fury • Tyson Fury • Wilder • Wilder vs Fury