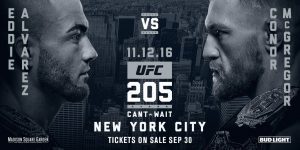 The UFC card that everyone has been waiting for since UFC 200 has finally been announced and boy oh boy does it not disappoint.  UFC 205 is the first card in New York City after a long battle to get MMA legalized in the state.  The UFC has always stated that they will bring a card as good as UFC 100 to Madison Square Garden for the first show and they did not disappoint.  The card is as deep as UFC 200, with 13 fights and probably about 10 that could have been main events of Fight Night cards.  On top of the depth the UFC also really got it done by getting Conor McGregor, the biggest star in the promotion, on the main event looking for a second belt against Lightweight Champ Eddie Alvarez.
As I'm writing this the UFC 205 New York City card is still about 6 weeks away, but the buzz is huge right now and I've already received several questions about where Canadians can bet on the McGregor fight for UFC 205.  Because of this I decided to add this "how to bet" guide for UFC 205, which is sure to be the biggest card in UFC history.  I'm adding this guide early, but the information I present will hold right up until UFC 205 gets underway on November 12th.
Bet On UFC 205 in Canada – Step By Step Guide
I'm adding a quick 3 step guide outlining how to bet on McGregor vs Alvarez, and the other UFC 205 fights, in Canada.
#1. Open a Sports Betting Account
The first thing you'll need to do is open an online betting account.  Our top rated site for betting on UFC 205 is SportsInteraction.com.  Sports Interaction only accepts Canadian residents and this allows them to really cater their sportsbook for Canadians both in terms of the featured betting options and the banking options and promotions.  Check out our full Sports Interaction review here.
Click here to sign up at SportsInteraction.com.
Sportsbook
Features
Offers
Rating
Bet Now
#2. Deposit
Next up you'll need to make a deposit to fund your account.
You can learn more about the deposit options available at Sports Interaction here.
#3. Bet On UFC 205: McGregor vs Alvarez
Now that you have some money online you're ready to bet!  To find the odds at Sports Interaction click on 'MMA' and 'Mixed Martial Arts' in the sportsbook.  As I'm writing this Sports Interaction already has the odds available for all of the main fights on the card and more prop bets will be added as we get closer to November 12th.
Those three steps should get you betting on UFC 205.  I'll also have a wide variety of other articles up about UFC 205 in the weeks leading up to the fights.  Click here to check all of those out.
Ready to bet?  Click here to visit SportsInteraction.com.
Tagged With : Bet On Conor McGregor • Bet On UFC 205 • Conor McGregor • Conor McGregor Betting • McGregor betting • McGregor vs Alvarez • UFC 205 • UFC 205 betting