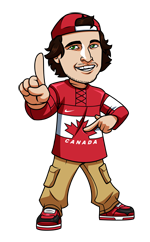 The most bet on boxing match of the summer could be between two YouTube celebrities.  Logan Paul and KSI are set to fight in a boxing match on August 25th, in Manchester, England, and with both guys having huge social media followings, the event has been getting a lot of buzz across the internet.
KSI has already fought in a YouTube boxing match, defeating Joe Weller in February of this year.  After his win he called out American YouTuber Logan Paul, with the latter accepting the fight a few weeks later.  Since then the hype has been building and many betting sites are already taking bets on the match.
The fight seems to be getting a lot of attention and it seems like a lot of people new to betting want to get some action on this fight.  If you're a Canadian that would like to bet on this Logan Paul vs KSI boxing match below is a step by step guide explaining how to get started.
Bet On Logan Paul vs KSI in Canada – 3 Step Guide
Step 1. Open an Online Betting Account
First you need to open an account with an online sportsbook that accepts Canadian players.  SportsInteraction.com is our top rated betting site for Canadians looking to bet on the KSI vs Logan Paul fight online.  Sports Interaction is entirely dedicated to the Canadian sports betting market, which puts them in a unique position to provide great customer service, and bonuses, promotions and deposit/withdrawal options that are meant for Canadian players.  Here's our full review.
Click here to open an account at SportsInteraction.com.
On the next page click on the 'Bet Now' button and fill out the registration form to open your account.
Step 2. Deposit
Once you've opened your account you will need to deposit the money you want to bet with.  Once logged into your Sports Interaction account click on 'Deposit' in the top right corner and follow the instructions to complete the deposit via your preferred deposit method.
Check out our deposits page for a breakdown of a few of the deposit options available for Canadians at Sports Interaction.
Step 3. Place Your Logan Paul vs KSI Bets
You're now ready to place your bets on the boxing match.
To find the KSI vs Logan Paul odds at SportsInteraction.com, you need to click on 'Boxing' from the left sidebar in the Sports section of the website.
Here is a screenshot of the current odds (taken on August 24th):
Sports Interaction will likely add prop bets for the fight closer to August 25th.  Check out our boxing section for a further breakdown of the bets you can make on a boxing match.
I'm going to personally be betting on Logan Paul.  He seems to be the bigger, more athletic of the two, and although KSI has a little bit of experience, I really wasn't impressed with the clips I saw from his Joe Weller fight.

That said, I don't know nearly enough about these entertainers to have any conviction in my pick.
That's it.  Ready to bet?  Click here to visit SportsInteraction.com.
Tagged With : boxing betting • Celebrity Boxing • KSI • Logan Paul • YouTube Boxing