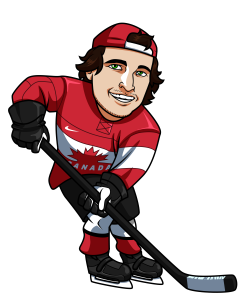 I went 2 for 2 last night with my plays on the Sharks and Canucks, but I won't include those plays in my yearly record because I didn't get the post up.  I used to do my NHL predictions over at NHLBettingTips.com, but this year I'm going to add a daily post with my picks here at Sports Betting Canadian, while handing over the reins at NHL Betting Tips to another NHL betting expert.
I will be keeping my prediction record up to date throughout the season so you can easily follow along with my results and follow me when I'm on a hot streak or even fade me when I'm on a cold streak.  The posts will usually be posted in the morning of the games, but sometimes I will get the picks up the night before.
Season Record: 0-0 for 0 units.
Let's get right into it!
**Also for any of you who already have a Bet365 account they are offering a $200 reload bonus offer to coincide with the NHL season beginning.  I suggest you take advantage of this offer if you plan to bet on the NHL throughout the season.
 Montreal Canadiens @ Washington Capitals Free Pick
The Habs are playing their second game in two nights, but this early in the season I don't think fatigue will play a role in the outcome of this game.  The Habs will have had one regular season under their belts and they were able to shake off some rust.  The game against the Leafs was very sloppy at times, but having played that meaningful game will likely help the Habs out tonight in Washington.
Then you have the Caps who are adapting to a new system under coach Barry Trotz.  I expect some rust and some mistakes from the Caps.  I like the Habs as dogs in this one.
Play: Montreal Canadiens 2.23 @ 5Dimes.eu
New Jersey Devils @ Philadelphia Flyers Free Pick
The Flyers had a tough 2-1 loss to the Bruins last night and now they are hosting another strong defensive team.  I'm not yet sure if the Devils offense will have meshed, but you can be sure they will be playing a strong team defense game under coach Peter DeBoer.  I also expect Cory Schneider to be near perfect in net.  I'm a little nervous taking the Devils to win this game because I don't expect a lot of goals from them, so I'm taking the Devils by the puckline.
Claude Giroux is the Flyers main offensive weapon and he hasn't really gotten his skating legs under him yet this year so I think it's a safe bet that the Flyers won't win by more than 1.
Play: New Jersey Devils (+1.5) 1.36 @ SportsInteraction.com
Boston Bruins @ Detroit Red Wings Free Pick
The Bruins played a strong defensive game to beat the Flyers last night.  They will have shaken off some of their rust and I expect them to still have their legs this early in the season for a back-to-back game.  I also think that the Red Wings are being overrated coming into the season so expect me to fade them often early on.
Play: Boston Bruins 1.91 @ 5Dimes.eu
Ottawa Senators @ Nashville Predators
The Preds aren't going to be good this year.  They don't have enough offense up front and on the back end Weber is their only really proven top end d-man.  Pekka Rinne is going to have to be great for this team to win games this year.  The Senators on the other hand are being underestimated to start the season, so expect to see me back the Sens a lot early on.
Play: Ottawa Senators 2.23 @ 5Dimes.eu
Calgary Flames @ Edmonton Oilers
I have a hard time not fading the Oilers when they are decent size favourites like tonight.  The Flames vs Oilers games are always exciting and they can often go either way.  I think the Flames are more ready for tonights game based on their lineup and the fact they played last night, while the Oilers line up is still very up in the air and inexperienced.  You won't see me bet on the Flames very often this season, but tonight I think they are a smart bet based on the odds.
Play: Calgary Flames 2.35 @ 5Dimes.eu
Good luck with your bets guys!
Tagged With : Boston Bruins • Calgary Flames • Detroit Red Wings • Edmonton Oilers • Montreal Canadiens • Nashville Predators • New Jersey Devils • Ottawa Senators • Philadelphia Flyers • Washington Capitals