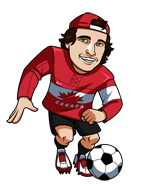 Yesterday was a fun day of matches with both Iran and Morocco bringing their best to make the Group B games a lot of fun.  In the end we have two round of 16 games set for the knockout stages with Uruguay facing Portugal and Spain taking on Russia.  In the first matches today we saw Peru get a big win over Australia and France and Denmark play a very cautious game to the first 0-0 draw of the tournament.  With the Peru win my record now sits at 15-15 for +2.92 units on match betting at this World Cup.
I will be using the best odds available from any of our top rated betting sites for Canadians.  The odds often change leading up to matches so be sure to compare odds when making your wagers to make sure you're getting the best value.
Mexico vs Sweden
Mexico 2.45
Draw 3.35
Sweden 3.21
With Germany coming back and stunning with the last second goal on the Toni Kroos free kick there is still everything to play for in group F.  That said, a draw for Mexico would solidify them a spot atop the group.  I think Mexico is the better side in this match and Sweden is more built for defending than pushing forward to try for a win.  Because of this I think Mexico will be able to hold off the Swedish attack when necessary and be able to come away with a positive result in this match.
Mexico could win this game if Sweden falls apart defensively when pushing for the win, but I think the draw is the more likely outcome.
Play: Draw 3.35 @ SportsInteraction.com
South Korea vs Germany
South Korea 17.00
Draw 7.61
Germany 1.20
Germany has been lackluster so far in this tournament and I don't think there is value in them at odds of just 1.20 even though them winning this game is definitely the most likely outcome.  South Korea is the weakest team in this group, but they have held their own against both Sweden and Mexico, and it's not out of question that they earn their first point in this World Cup by holding Germany to a draw.
If Germany plays their best they should win this match easily, but I haven't seen anything to convince me we will see the best version of Germany in this tournament at all.
Play: Draw 7.50 @ SportsInteraction.com
Serbia vs Brazil
Serbia 7.50
Draw 4.63
Brazil 1.50
Brazil was able to have a huge weight lifted off their shoulders with the two added time goals to beat Costa Rica in their second match.  Serbia will know they most likely need a win in this match to move on, which will force them to attack at some points in this match.  With Serbia moving forward I expect Brazil's talent to show through in a more wide open game, with the Brazilians winning this one easily and heading into the knockout stage with confidence.
Play: Brazil 1.50
Switzerland vs Costa Rica
Switzerland 1.72
Draw 3.40
Costa Rica 6.50
Costa Rica was just minutes away from a massive draw with Brazil in their most recent match.  After Coutinho scored the goal in the 91st minute you could see Costa Rica have a massive adrenaline dump, which lead to Neymar's late tally to add to the score.  I think Costa Rica left everything they had on the field in the Brazil match, and now with nothing to play for, I don't think Costa Rica will have the effort necessary to keep Switzerland off the scoreboard in this match.
The Swiss have shown they are one of the best teams in this tournament and I expect them to win this game handily and head into the knockout stage in style.
Play: Switzerland 1.72
Again, these odds can change leading up to the matches, so be sure to check and compare the odds for each match yourself before placing your bets.
Tagged With : World Cup betting • World Cup odds • World Cup picks