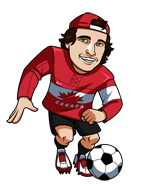 The 2018 FIFA World Cup has begun!  Russia just put down a very impressive showing in the first match of tournament beating Saudi Arabia 5-0 to set the stage for the tourney.  I'm expecting to watch pretty much every match of this World Cup and I will also be adding my picks here at the site daily.
I will be using the best odds available from any of our top rated betting sites for Canadians, which are outlined in the table below.  The odds I've used were accurate at the time of writing this article, but they can change leading up to the match, so be sure to check and compare the odds for yourself.
**Also check out our how to bet on the FIFA World Cup in Canada page for a step by step guide to getting your bets in on any World Cup match.
Sportsbook
Features
Offers
Rating
Bet Now
1

Licensed and regulated in Canada
Easy deposits & withdrawals including Interac
Competitive betting lines
2

Licensed and located in Ontario
Entirely focused on Canadian betting market
Easy deposit/withdrawal options, including Interac
Egypt vs Uruguay
Egypt 7.50
Draw 4.27
Uruguay 1.625
Mohamed Salah is expected to play for Egypt, so they will have a legitimate offensive threat in this match, but I still feel like the complete quality and depth of Uruguay will be too much for Egypt in this one.  Uruguay is a perennial contender on the international scene and they finished 2nd to Brazil in the CONMEBOL qualifiers, while putting up 32 goals in 18 matches against quality South American teams.  Uruguay has not lost a match internationally in over a year and they easily won the China Cup in March with wins over a couple solid European teams in the Czech Republic and Wales in that tournament.
I expect Uruguay to be on another level in this match and to come out with a win.
Play: Uruguay 1.625
Morocco vs Iran
Morocco 2.25
Draw 3.07
Iran 4.00
Morocco and Iran both ripped through their confederation qualifying showing supreme defensive abilities.  Morocco easily topped a group that included Ivory Coast without conceding a goal in 6 matches, while Iran went 6-4-0 to top a group that included South Korea, while only allowing 2 goals against in 10 matches.
Both of these squads know how to lock it down defensively and I could easily see a 0-0 draw in this match.  Iran didn't allow a road goal in all 5 qualifying matches in their AFC group, while Morocco didn't allow a goal in 6 qualifying matches period.
Since qualifying Morocco has continued the strong play winning the African Nations Cup last year and beating Serbia, Uzbekistan and Slovakia in World Cup tune-up friendlies, while also drawing Ukraine 0-0 just last month.  Iran also played well in their tune-up matches beating both Uzbekistan and Lithuania 1-0 in May, while also falling to Turkey 2-1 in a friendly.
Both of these teams are very solid defensively and I think betting the draw is the sharp bet in this match.  Morocco is the rightful favourite, but I think there is just as good a chance of a draw as Morocco finding a way past this Iranian defense.
Play: Draw 3.07
Portugal vs Spain
Portugal 4.20
Draw 3.40
Spain 2.10
Spain fired their coach just two days before this important World Cup match, but I don't think that will play a factor in this match.  I do think that these are two closely matched, talented teams, who each qualified from solid UEFA groups.  Portugal only allowed 4 goals against in 10 matches, while Spain did one better only allowing 3 goals against.
I think both teams will be hard pressed to find goals in this match, but they are also both talented enough to push forward and find an equalizer if either team scores early.  I'm going with a draw in this one as well, which will force both teams to battle it out with Morocco and Iran, looking for wins and goal differential to top group B.
Play: Draw 3.40
Again, these odds can change leading up to the matches, so be sure to check and compare the odds for each match yourself before placing your bets.
Tagged With : FIFA World Cup • World Cup 2018 • World Cup betting • World Cup picks