The Chicago Blackhawks just won the Stanley Cup last night and before they've even had time to engrave the players names every self respecting online sportsbook already has new Stanley Cup winner odds up for next season.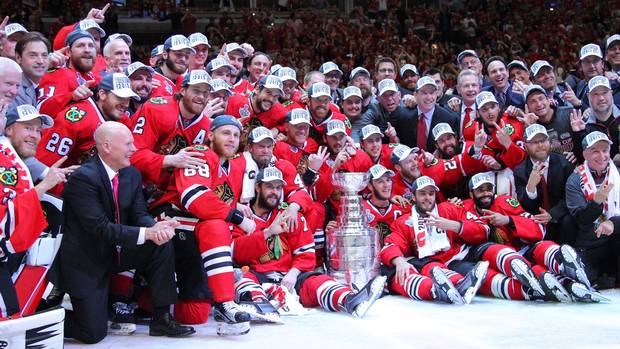 I feel a bit bad about already getting this post up, so I'm going to leave you with a video of all the Blackhawks playoff goals before moving forward.
Alright, now that I've paid my respect, let's move along.  All
three of our top sportsbooks for Canadians
already have the 2016 Stanley Cup odds up, so I'm going to give you the odds that payout the most for each team.  Let's take a look….
2016 Stanley Cup Odds (As of June 16, 2015)
Chicago Blackhawks 8/1 (Bet365)
New York Rangers 8/1 (Bet365)
Anaheim Ducks 10/1 (Bodog)
Tampa Bay Lightning 12/1 (Bodog)
St. Louis Blues 12/1 (Bodog)
Minnesota Wild 14/1 (Bodog)
Montreal Canadiens 14/1 (Bodog)
Pittsburgh Penguins 14/1 (Bodog)
Nashville Predators 16/1 (Bodog)
Boston Bruins 18/1 (Bet365)
LA Kings 18/1 (Bet365)
Washington Capitals 18/1 (Bet365)
New York Islanders 22/1 (Bodog)
Winnipeg Jets 25/1 (Bet365)
Detroit Red Wings 33/1 (Bodog)
Calgary Flames 40/1 (Bodog)
San Jose Sharks 40/1 (Bodog)
Vancouver Canucks 40/1 (Bodog)
Ottawa Senators 50/1 (Bodog)
Edmonton Oilers 66/1 (SIA)
Colorado Avalanche 66/1 (Bodog)
Dallas Stars 66/1 (Bodog)
Philadelphia Flyers 66/1 (Bodog)
Florida Panthers 75/1 (Bodog)
Toronto Maple Leafs 75/1 (Bet365)
New Jersey Devils 90/1 (SIA)
Carolina Hurricanes 100/1 (SIA)
Buffalo Sabres 125/1 (SIA)
Arizona Coyotes 150/1 (Bet365)
That was a long list to get through, but I like to record all of the odds when they're first published to see how they change throughout the season.  These odds will also likely change over the off season as teams start to sign UFA's or make trades at the draft, etc.
My Picks
Right now, I like the Tampa Bay Lightning at 12/1.  I don't think it was a fluke at all that this team was able to win the East and compete in the Stanley Cup Finals.  They have almost their entire team under contract for next season and they were already the youngest team in the playoffs, so I only see them getting better.  The Lightning are definitely the team to beat in the East next year and if they return to the Cup Finals they will have the experience to finish the job.  The Lightning at 12/1 are my favourite bet right now.
Take the Lightning 12/1 @ Bodog.eu.
The other team I like is the LA Kings at 18/1.  Let's not forget that this team still has Drew Doughty, Anze Kopitar, Jeff Carter, Marian Gaborik, Dustin Brown and more.  If they can make the playoffs they are a legitimate threat to win the Cup.  This team has still won 2 Cups in the last 4 years and has the core together.  They missed the playoffs last season and lost to the Blackhawks 3 years ago, while winning the Cup 2 seasons and 4 seasons ago.  You can be sure this team makes the playoffs after missing this year and they will be a top contender.  At 18/1 this is a steal right now.
Take the Kings 18/1 @ Bet365.com.
I really like both of those picks right now and I expect the odds to shorten throughout the season, so it might be a good time to get your bets in now.  But remember…….when you do futures bets you lock those funds up for an entire year, so you have to consider the time value of money when making these investments.
I'll add another Stanley Cup Winner post right before the season, so check back to see how the odds have changed.
Tagged With : 2016 • NHL • Stanley Cup