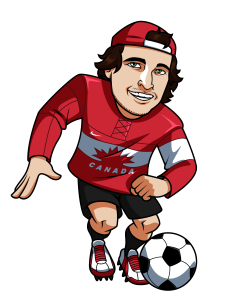 I was very surprised by some of the outcomes in the quarterfinals this past weekend.  Out of the 4 quarterfinal games, I was only able to hit Germany to advance out of my four bets.  I'm looking to do better in the semi-finals here, but this Euro 2016 has really shown that anything is possible.
I'm using Bet365.com for the Euro 2016 picks below.  Here's a full Bet365 review for you to learn more about the sportsbook.
Portugal vs Wales
Portugal 2.20
Draw 3.10
Wales 4.00
To Advance
Portugal snuck through yet another round of this tournament with their penalty kick win over Poland in the quarterfinals.  Portugal has still yet to win a match in regulation in this tournament, yet here they are as favourites to make the Finals of Euro 2016.  I'm just not sold on this Portugal team.  They continue to squeak by, but that luck has to run out at some point.
Wales, on the other hand, has earned their spot in the semi-finals.  They were able to score 3 goals against a star studded Belgium team in the quarterfinals and they've now won 4 of their 5 games in regulation time in this tournament.  That's a far better showing than Portugal who has only lead games for about 15 minutes total in their 5 matches.
A lot of stock will be put into the Gareth Bale vs Cristiano Ronaldo story line of this match, but the fact is that Wales has played the better team game so far in this tournament.  I think they'll be able to solve the Portugal defense and get an unlikely title berth in regulation time.
Play: Wales 4.00
Germany vs France
Germany 3.00
Draw 3.00
France 2.80
To Advance
Germany went through on penalties against Italy, but it was a penalty shot that allowed Italy to tie the game late in regulation as well.  That was the only goal Germany has conceded this entire tournament.
France does pose a great deal of threats on offense, but Germany has really hammered down their play in the defensive end and I expect them to shut down the France attack.  On offense, I think Germany will do just enough to get a 1-0 win in regulation to upset the home side.
This game could go to extra time with both teams so organized at the back end, but if it does end in regulation I expect Germany to be the victors.
Play: Germany 3.00
I'm looking for a finals between Wales and Germany, but time will tell.  Check back for my finals pick after the semi's.
Tagged With : Euro 2016 • Euro betting • France • Germany • Portugal • Soccer betting • Wales