The Tigers and White Sox meet today in the second game of their three game set at U.S. Cellular Field in Chicago. The White Sox are coming off of a mediocre performance last night in which they managed to snag a win from Detroit with 5 runs on only 6 hits. Detroit replied with only 7 hits of their own and mustered a mere 2 runs in the loss. Tonight, I expect to see much of the same on the offensive side of things as Chicago sends their stud left hander, Chris Sale to the mound, while Detroit counters with the 6'6″ Alfredo Simon.
Prediction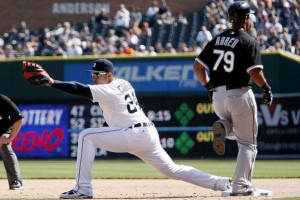 Both teams have been struggling to produce offensively over the past week. Each squad has played 5 games in the past 6 days and they've combined for a total of only 25 runs. Further breaking this down we're left with an offensive output of only 2.5 runs per game, per team. Such struggles offensively have been unfamiliar territory for this Tigers team compared to seasons past. Detroit has had arguably the strongest batting order in baseball over the past few seasons ranking 2nd in runs scored per game in both 2013 and 2014. With the new season however, comes new challenges.
Sale comes into tonight's contest sporting a 2-1 record through 4 starts. He was severely roughed up in his last start as he gave up 9 hits and 8 runs in only 3 innings work. However, we cannot hang our heads on that horrid outing as Sale has proven himself to be successful against this potent Detroit lineup. Sale has held the Tigers to only .236 hitting over the past 3 seasons, no small feat. His most recent success against them was three starts ago on April 18th, when he went 6 strong innings surrendering only 4 hits and 2 earned runs which he accompanied with 6 Ks.
Alfredo Simon will toe the slab for the Tigers tonight. The big man from Santiago, Dominican Republic towers the mound fresh off the heels of a rough outing of his own. Simon was reach for 6 runs on 9 hits in only 4 1/3 innings last Thursday in Kansas City. A consolation prize to his putrid performance would be the 6 Ks he racked up that afternoon. Despite that foul performance, Simon has been extremely strong on the mound this spring for the Tigers. Up until last Thursday, he fashioned a 4-0 record having given up only 5 earned runs in those appearances. He looks to improve his numbers tonight against a soft, but sometimes sneaky, White Sox lineup.
All things being said, I can't lift my focus from the depleted run totals of these two teams. The Tigers are in offensive shambles at the moment and things don't get any easier tonight against Chris Sale. Chicago has fared no better of late and they face a stern test in the flame-throwing Dominican, Alfredo Simon. U.S. Cellular Field has proven to be one of the most pitcher-friendly parks in all of baseball this year and I don't expect this to change tonight.
Play: Under 7.5 runs @ 2.00 Bet365.com
Tagged With : Chicago White Sox • Detroit Tigers • Free Play • May 6th • Over/Under