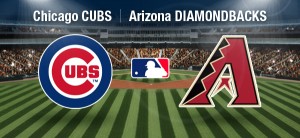 The Diamondbacks return home tonight on a roll. Winners of their last four games and posting solid numbers all the way through. The Cubbies are in town and look to build off their impressive shutout victory over the San Diego Padres last night. Kyle Hendricks went the complete game last night limiting Padres' batters to only five totals hits (all singles) in the 3-0 victory. Arizona pulled through in a very swingy game against the Marlins last night completing the 4-game sweep. We Should be in for an exciting one tonight that holds a lot of value for the betting market.
Prediction
Arizona faces a challenge in the travel grind they've just completed. They played a 4-game set in Miami and flew home after the game yesterday. From Marlins Park to Chase Field in Arizona it's a 4 hour flight. Top this flight off with a 3 hour time difference from Florida to Arizona and you're faced with some potential challenges. The Cubs on the other hand just finished a 3-game set in San Diego and hopped a 1 hour plane ride to Arizona obviously dealing with zero time change. This could play a huge role in the Diamondbacks' readiness for tonight's game.
Josh Collmenter gets the start for Arizona tonight, he's been struggling in his previous two starts. He was tagged with four runs on six hits in six innings work in his last start against a rather tame Phillies lineup. Opposing him on the mound will be Chicago's ace, Jon Lester. Lester has been brilliant in his starts throughout the month of May. He's gone 4-0 with a 1.67 ERA in four starts, all of which have resulted in wins. The Diamonbacks' bats have been hot of late having smacked 40 hits and driven in 20 runs over their current four game winning streak. We hope the travel and equally hot arm of Lester will be enough to slow them down tonight. This game also holds some significance for Cubs catcher, Miguel Montero. Montero, who was acquired by the Cubs this past off season, spent 9 years with the Diamonbacks so I'm expecting a big game from him tonight. It's tough to pick a side in this one as both teams are rolling in their own sense of the word but I feel as though the pitching matchup so heavily favors the Cubs we have to take them tonight. They have several big and timely bats in their lineup that should be enough to overpower the Dbacks and halt their winning ways. Let's get it.
Play: Chicago Cubs 1.71 @ SportsInteraction.com