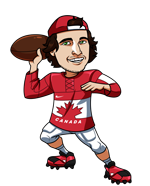 I kicked off my CFL picks for 2018 in week 3 by going 2-2.  I do feel like I'm getting a better grasp on the quality of each team as we move further into the season though, so I hope to move into the profit this week.
I will be using the odds from SportsInteraction.com for my CFL picks throughout the season.  They are our top rated sportsbook for Canadians.  Check out our full SIA review here.
Hamilton Tiger-Cats vs Saskatchewan Roughriders
Hamilton -7.5
Saskatchewan +7.5
The Roughriders looked awful in last weeks game against the Alouettes.  Duron Carter should not be at DB.  It's crazy to me that an All-Star wide receiver is being used as a defensive back.  Jeremiah Masoli should be able to take advantage of Carter this week, so I don't see the Ti-Cats having any trouble moving the ball.
Look for the Ti-Cats to run up the score in this one and for the Riders to have to finally admit they need to go out and find a real DB for the injured Nick Marshall.
Play: Ti-Cats -7.5
Ottawa Redblacks vs Montreal Alouettes
Ottawa -7.5
Montreal +7.5
I do not think last weeks win means the Alouettes are an improved team.  They simply took advantage of a depleted Roughriders team that had a glaring hole on defense.  The Redblacks do not have such a hole and should be able to win this game on the road.
Ottawa is the superior team and although this is a difficult spread to cover on the road, I expect them to have no trouble scoring, which should lead to a cover.
Play: Redblacks -7.5
Edmonton Eskimos vs Toronto Argonauts
Edmonton -3.5
Toronto +3.5
The Argos are coming off a bye week and they will be itching to get back in there after their embarrassing 41-7 home loss to the Stamps in week 2.  The defending champs are an average team in this league, but I think they will come out and have a good game on Saturday to get into the win column.
Edmonton is also an average team in my eyes, so I do not like them as road favourites in this spot.
Play: Argonauts +3.5
BC Lions vs Winnipeg Blue Bombers
BC +4.5
Winnipeg -4.5
The Lions did not look good last week in Edmonton.  The Bombers also lost in Hamilton, but I think the Ti-Cats are the real deal this year, so I'm expecting the Bombers to bounce back at home against a weak Lions team.
This is an important game for the Bombers to avoid going 1-3 to start the season.  I see Winnipeg as the second best team in the West and I expect the cream to rise to the top starting with this game.
Play: Blue Bombers -4.5
Tagged With : CFL betting • CFL picks • CFL Week 4