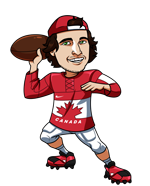 After a nice 3-1 record in week 16, I regressed in week 17 going 1-2 against the spread in the 3 games that had betting lines when I wrote last weeks picks article.  The Ti-Cats kept the game very close against the Stamps, which definitely surprised me, while the Redblacks went into Saskatchewan and got a win, which I did not expect.  The Eskimos just squeaked out a win over Toronto, but did not cover the 7 point spread, which gave me a win back on Saturday night.
My season record now sits at 34-30 to this point in the season.
I'll be using SportsInteraction.com for my CFL picks all season long.  They're our top rated sportsbook and they are an in-game sponsor of the Hamilton Tiger-Cats this season, which shows their commitment to the CFL.  You can check out our full SIA review here.
Sportsbook
Features
Offers
Rating
Bet Now
Saskatchewan Roughriders @ Calgary Stampeders
Saskatchewan +10
Calgary -10
The Stamps didn't run away with the game in Hamilton last week, but this week they're back at home where they have absolutely cruised this season.  The Stamps have won their last 6 home games by more than 10 points, with the only home game they didn't win by double digits being their week 2 game against Ottawa (won by 4).  The Roughriders have had a very solid year, but they haven't shown their highest level in recent weeks.  They lost a 1 point game to Ottawa last week at home, while only beating Toronto by 3, and Ottawa by 1, in their last couple games in Eastern Canada.
I don't think anyone can compete with the Stamps in Calgary.  They scored 59 points in their last home game and I expect at least 30 in this one, which should be more than enough to cover the spread.
Play: Stampeders -10
Winnipeg Blue Bombers @ Toronto Argonauts
Winnipeg +1
Toronto -1
The Bombers have quietly put together a 4-1 streak over their last four games and have already won 11 games this year, somewhat under the radar.  The Bombers are 5-2 on the road and are simply on another level when compared to the Argos.
Toronto will want the win to pass Ottawa for the top spot in the East, but in this one I'm just looking at which is the better team and that is obviously Winnipeg in this one.
Play: Blue Bombers +1
Edmonton Eskimos @ BC Lions
Edmonton +2
BC -2
The Eskies have now won 2 games in a row, but they still are not playing great football.  They beat the lowly Alouettes a couple weeks back after being tied going into the fourth quarter and then barely squeaked out a home win over the Argos this past week.
The Lions know they have to leave it all on the line to attempt to catch the Roughriders in these final few weeks, but they too have been playing some very poor football.  BC has gone only 1-7 over their past 8 games.
We're picking between a couple of teams who had very hot starts and then fizzled out in the second half of the season.  I guess I'll lean towards the Eskimos and take the points in this one, but it's by no means a conviction play.
Play: Eskimos +2
Hamilton Tiger-Cats @ Montreal Alouettes
Hamilton -3
Montreal +3
With last weeks heartbreaking loss to Calgary, the Ti-Cats have been eliminated from playoff contention, so this is a game between the only two eliminated teams.  Hamilton has actually been playing some very good football over the past several weeks after an awful start to the season, but having been eliminated from the playoffs and now facing the worst team in the league, I can see this as a major let down spot for the Ti-Cats.
The Alouettes, on the other hand, are coming off a bye week and playing for pride.  They've known for a while they will not be making the playoffs, so they should have accepted that fact and coming out of the bye week I expect them ready to play hard for their jobs down the stretch.  Montreal has also played quite well at home this season.  They were tied with Edmonton heading into the fourth quarter in Montreal in their last game and each of their three wins this season have come at home.
I'm calling a let down spot for the Ti-Cats, and a Alouettes team that is ready to go hard out of their bye and earn back some respect.
Play: Alouettes +3
Tagged With : CFL betting • CFL picks