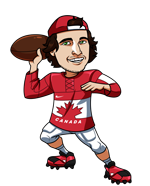 It was a tough week 14 with my CFL picks, going 1-2 on the spreads that were available at the time of my article.  Ottawa and Montreal both were unable to keep their games close on the road in Winnipeg and Toronto respectively, which gave me a couple of losses.  The Ti-Cats though more than did their part, easily covering the 12.5 point spread in BC, while going on to actually win the game 24-23.  If anyone out there took the Ti-Cats to win straight up then you would have hit a nice score.  My season record is now 29-24 to just cling to a profit.  I'm looking to close out the season strong in the next few weeks.
I'll be using SportsInteraction.com for my CFL picks all season long.  They're our top rated sportsbook and they are an in-game sponsor of the Hamilton Tiger-Cats this season, which shows their commitment to the CFL.  You can check out our full SIA review here.
Sportsbook
Features
Offers
Rating
Bet Now
Saskatchewan Roughriders @ Ottawa Redblacks
Saskatchewan -3
Ottawa +3
We still don't know who the QB will be for the Redblacks this Friday.  It could be Trevor Harris, Drew Tate or Ryan Lindley under center for Ottawa, and which QB it is will play a big factor in this game because Ottawa will need to put up points to keep pace with the Roughriders offense that had been performing very well before being shut down by the Stampeders last week.
There are a lot of question marks surrouding this game, but I have to give the edge to Saskatchewan.  They are 3-1 in the East this year and they seem to understand that they need to get wins when coming to the East Division in order to keep pace in the West.
I see a bounce back spot for the Roughriders this week after a tough home game against Calgary.  There are a lot more question marks surrounding Ottawa, which is why I have to learn Saskatchewan to cover.
Play: Roughriders -3
Montreal Alouettes @ Calgary Stampeders
Montreal +17.5
Calgary -17.5
Before the spread came out I was pretty sure I would take the Stamps, but I was expecting a spread closer to 13.5 or 14.  Now that the spread is set at 17.5, I think I have to lean towards the Alouettes.  Montreal has been downright bad since the coaching change and this is a step up in competition, so I understand that monster spread, but I just don't think that the Alouettes can play any worse than they have in those recent games.
The Stamps are without a doubt the best team in the league and they routinely destroy opponents, but they haven't won a game by 18+ points in 3 weeks.  This is a scary play with the best team playing the worst, but I just can't bring myself to take the Stamps knowing that even a dominant win by two touchdowns and a field goal would still lose the bet against the spread.
Play: Alouettes +17.5
Toronto Argonauts @ Hamilton Tiger-Cats
Toronto -3
Hamilton +3
Now this is a play I can make with confidence.  I like the Ti-Cats to win this game straight up in front of their home crowd.  They have now won 3 of their past 4 games and the loss was actually a competitive game against a Roughriders team that has looked good of late as well.
The Argos are not nearly as good as their record indicates.  Yes, they won their last two games and the home win over the Eskies was a nice W, but Edmonton had lost 4 straight heading into that one, so it's not like they were taking on Edmonton at their peak.
The Ti-Cats are actually playing some solid football and as long as they don't have a let down this week after their big win in BC, I think they get the job done and beat the Argos at home again, just like they did in week 11.
Let's not forget that the Ti-Cats are actually not out of playoff contention in the weak East.  A win over Toronto this week and they are only a couple games back of the Argos with two games against the Alouettes in the remaining weeks of the season.
Play: Tiger-Cats +3
Winnipeg Blue Bombers @ Edmonton Eskimos
Winnipeg +1
Edmonton -1
The Eskimos have fallen off the map at this point in the season.  After starting the season 7-0 they have lost 5 straight games and now find themselves in a fight for the playoffs.  Edmonton is coming off a bye week, which may allow them to shake off some of those tough losses that they had, but I still do not think this team is an above average CFL team, which I also outlined even when they were 7-0.
The home game coming out of bye week preparation definitely gives me pause, but I'm ultimately going with the better team in this game, which is the Winnipeg Blue Bombers.  The Bombers are only 1 week removed from their own bye week and they got the job done hosting the Redblacks last week with a dominant performance.  This could definitely be a close game and I'm not overly confident in this play either, but I'm going with the Bombers to get the win on the road and add another L to the Eskies streak.
Play: Blue Bombers +1
Tagged With : CFL betting • CFL picks • CFL Week 15