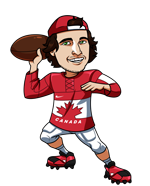 I was able to close out the CFL season going 4-0 against the spread with my week 20 picks.  The Ti-Cats easily destroyed the Alouettes, as expected, and the Bombers and Argos were able to get the job done in big time games for both squads, while the Eskimos went into Saskatchewan and beat the Riders to stay in the West.  That 4-0 week brings my season record betting on the CFL to 40-35-1 against the spread.
It's now playoff time in the CFL with the Roughriders heading to Ottawa to battle it out for the trip to Toronto for the East Division Finals, while the Eskimos head to Winnipeg to see who will get the chance to face the struggling Stampeders in the West Division.  Both of these games are on Sunday afternoon as the CFL goes head to head with the NFL during the playoffs.
I'm using the odds from SportsInteraction.com for my playoff picks below.  They're our top rated sportsbook and they are an in-game sponsor of the Hamilton Tiger-Cats this season, which shows their commitment to the CFL.  You can check out our full SIA review here.
**Both of these games are basically pick'em's with the Redblacks as -1.5 point favourites and the Eskimos as -1 point favourites.  Because the games are so evenly matched I will provide my money line (outright winner) picks below.
Saskatchewan Roughriders @ Ottawa Redblacks
Saskatchewan 2.05
Ottawa 1.80
The Redblacks have not been great at home this season, posting a 3-5-1 record, while the Roughriders have a 5-4 record away from home.  Ottawa has also not found a great deal of success against West Division teams this year (3-6-1), while Saskatchewan has gone 6-2-0 against the weaker East Division.  I'm also not convinced that Saskatchewan put forth their best effort in last weeks game against Edmonton, knowing that the winner would have to stay in the West and face the Blue Bombers followed by the Stampeders to make it to the Grey Cup.  If you remove that game the Riders have actually been playing very well of late, winning 4 of their 5 games between weeks 15 and 19.  Their one loss in that span was a 1 point loss to the Redblacks in Saskatchewan though.  That said, the Roughriders beat Ottawa in Ottawa by a single point in week 15.  These teams play each other hard and are very evenly matched.
Ottawa is coming off a bye in week 20, and they also had a bye in week 18, which means they've only played one game in the last month.  It was a win at home over Hamilton, but you have to wonder whether the bye weeks will allow them to be well rested for this game, or whether they will come in rusty.  I think it has to be an advantage for Ottawa.  Saskatchewan has now played 11 straight games without a bye week, while the Redblacks were able to rest up and start to game plan for either the Eskimos or Roughriders in their week off.
You also have to factor in the experience of winning the Grey Cup last year for this Redblacks team.  Now that they are in the playoffs they have a clear path to repeat as champs.  They are slight favourites in this game against Saskatchewan and if they win I think it will be basically a pick'em game against Toronto in the East Finals.  If they win that game they get to defend the Grey Cup in front of their home fans.  The route is set.  Ottawa just needs to start with a win this Sunday over Saskatchewan.  I expect a big game out of Trevor Harris and for the experience and rest to play a big factor in Ottawa overcoming their home field and "vs West" records to get the job done.
Play: Redblacks 1.80
Edmonton Eskimos @ Winnipeg Blue Bombers
Edmonton 1.83
Winnipeg 2.00
Edmonton had quite a wild season.  They shot out the gate winning their first 7 games, but then stumbled through a difficult part of their schedule, losing 6 straight games.  Heading down the stretch Edmonton seemingly got it together and put together 5 straight wins to finish the season 12-6.  Talk about a streaky team.
Winnipeg also went 12-6, but they did so in a much more straight forward manner.  Although they did string off 5 wins in a row fairly early on in the season.
I'm personally not convinced that the Eskimos are back.  Like I said in the Roughriders write-up, I'm not convinced Saskatchewan didn't want to cross-over to the East Division.  I'm also not impressed with week 19 win over a Stamps team that stumbled into the playoffs, or the week 18 win (in OT) over a Lions team that was 1-7 in their last 8 heading into that game.  Before that they won a tight game at home against the Argos, and broke out of their slump with a big win over the Alouettes, which every CFL team was destroying by this point in the season.  I'm simply not convinced that this Eskimos team is really as good as it seems with this 5 game winning streak.
The problem is the Bombers aren't exactly playing their best football of the season either.  Again, I'm not overly impressed with the win over the Stamps to close out the season, and before that they gave the Lions their first legitimate win of the second half of the season and also lost to Toronto in week 18.
Neither team is playing really bad per se, but I've not been impressed in either team at this point either.  At this point I'm going to have to go with my lean, which is the Bombers as ever so slight home underdogs.  I really don't think Edmonton has turned the corner as much as their wins may indicate and the Bombers should be able to show this on Sunday.
Play: Blue Bombers 2.00
Tagged With : CFL betting • CFL picks • CFL Playoffs