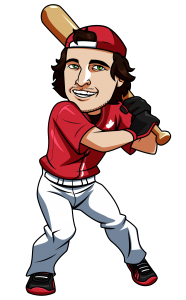 The Blue Jays were able to win their final two games of the season and secure home field advantage for a Wild Card tilt with their AL East divisional rival Orioles.  The Blue Jays had looked like they may back themselves right out of the playoffs after losing 3 straight games to make the final two games of the season very interesting for Jays fans.  Luckily, they got the job done with a thrilling Saturday game, followed by a pitching clinic by ace Aaron Sanchez on Sunday.
Orioles @ Blue Jays Wild Card Odds
Let's take a look at the odds for this crucial game.  The odds below are from SportsInteraction.com, our top rated site for Canadians looking to bet on sports.
Baltimore Orioles 2.45
Toronto Blue Jays 1.59
Over/Under 8.5
The home field advantage is definitely affecting these odds significantly.
Sportsbook
Features
Offers
Rating
Bet Now
My Pick
With Sanchez having pitched on Sunday to secure the home field advantage, the Jays will now turn to Marcus Stroman, who came into the season as the expected Ace, but who hasn't had the best of seasons with a 9-10 record and a 4.37 ERA.  The Orioles will rely on Chris Tillman, who has had a very solid season with a 16-6 record and 3.77 ERA.  That said, the pitching stats can be affected by a large number of variables and they can basically be thrown out the window when talking about an elimination game scenario.  We saw Stroman put on some very solid performances throughout last seasons playoff run for the Jays and I'm expecting him to bring his best stuff on Tuesday.
The Jays are also very confident when playing at the Rogers Centre.  They're 46-35 at home this season and the Orioles are just 39-42 on the road.  Winning that game on Sunday could really have a big impact in if the Jays advance to the divisional round this season and take on the Rangers once again.
Toronto is the type of team that can wake up with some huge at bats at any time and we saw last year that guys like Bautista, Donaldson, Tulowitzki and Encarnacion can really step up with the game on the line.
I think the Jays will step up and get the win at home Tuesday night in order to book a rematch of last years Divisional Round with the Rangers.
Play: Blue Jays 1.59 @ SportsInteraction.com
Tagged With : Blue Jays betting • MLB betting • MLB playoffs • Toronto Blue Jays