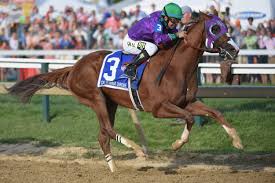 The upcoming Belmont Stakes race that takes place this coming Saturday has a lot of excitement heading into it because of the chance of a Triple Crown win for California Chrome.  The American Triple Crown of Thoroughbred Racing has not been won since 1978 by Affirmed, so there is a lot of excitement that this could be the year.  California Chrome is a big favourite heading into the race with the oddsmakers giving him about a 50/50 shot at winning the Belmont Stakes and becoming the most recent Triple Crown winner.
Since 1978 12 horses have entered the Belmont Stakes with a chance at winning the Triple Crown, but each failed to do so.  It's not wonder that they call this longer race the test of the champion.
Current Belmont Stakes Winner Odds – As of June 4th
Here are the current winner odds for the Belmont Stakes from SportsInteraction.com.  Remember that the odds for horse races do change often and dramatically and if you bet through the racebook you are not guaranteed to lock in your bet at the odds it states.
California Chrome 1.91
Ride On Curlin 5.95
Tonalist 7.29
Commanding Curve 8.01
Wicked Strong 9.00
Medal Count 16.00
Samraat 19.00
Social Inclusion 33.00
Commissioner 35.00
Kid Cruz 36.00
California Chrome has drawn the number 2 position for the race, which is a good position because the horse can save some ground, but it won't make too big of a difference in the longer Belmont Stakes race.
How To Bet On The Belmont Stakes for Canadians
I suggest that Canadians place their bets through SportsInteraction.com, our top rated racebook for betting on the Belmont Stakes.
To place your Belmont Stakes bet before race day you can do so in the Sportsbook by clicking on 'Horse Racing' from the left sidebar and then choosing Belmont Stakes.
On race day you should go to the Sports Interaction Racebook, select Belmont Park from the Thoroughbred menu and choose the Belmont Stakes race.
Tagged With : Belmont Stakes betting • California Chrome betting • Triple Crown betting