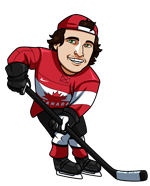 There may be no NHL players participating, but the 2018 Winter Olympics ice hockey tournament will still proceed, just with a lot less fanfare.
The Women's tournament begins on February 10th, but it's really the inevitable finals between Canada and the USA that will take place on February 22nd that we are all waiting for.
The Men's tournament begins on the 14th and it should be interesting because we really don't know what to expect.  The Gold Medal game takes place on the 25th and it will be interesting to see if Canada can overcome the lack of NHL players to defend their gold from 2014.
I've included the gold medal odds for both the Women's and Men's tournaments below.  You can also bet on each individual game at SportsInteraction.com, our top rated betting site for Canadians.
Sportsbook
Features
Bonus
Rating
Bet Now
Women's Ice Hockey Gold Medal Odds
Here are the odds for the Women's tournament from SportsInteraction.com:
As usual the women's tournament will be a two nation battle between the USA and Canada.  Team Canada won the gold medal in dramatic fashion in 2014 with a 3-2 overtime victory over the Americans.  Outside of that massive victory though, the United States has largely had Canada's number over the past half decade.
Team USA has defeated Canada in the 3 World Championships held since the 2014 Olympics, and the Americans have also beaten Team Canada in the finals of the 3 Four Nations Cups in that span.  That's 6 finals and 6 wins for Team USA, since the Olympics loss.
That said, Team Canada seems to save their best stuff for the Olympics.  The Canadian women have won the past 4 Olympic tournaments, so that could be in the back of Team USA's mind even though they will come in to Pyeongchang as the favourites.
I think the smart money has to be on Team USA in this case because the Americans current generation of women's hockey players seems to have Canada's number.  That said, the games are always competitive and in a one game winner take all scenario it's really anyone's game.
Play: Team USA 1.84
Men's Ice Hockey Gold Medal Odds
OAR stands for the Olympic Athletes or Russia, so I will refer to it as Team Russia from here on out.  It's no surprise that the Russians come in as favourites considering the star power of the team.  Big name players like Pavel Datsyuk and Ilya Kovalchuk highlight the roster, not to mention other high quality players who have chosen to play their careers in the KHL such as Shipachyov and Mozyakin.  Even if the NHL had been participating a good portion of Team Russia would still have been composed of KHL players, so they are really only losing half of their top players, while other countries such as Canada, USA and Sweden would have been 100% NHLers.  For this reason it's no wonder that the Russians are favourites.
That said, I do not think they are good value at those odds.  There are three elimination games for every team en route to the gold medal, and I do not consider Russia as a big enough favourite in those games to justify odds implying a better than 50% chance of winning the tournament.
I think anyone of the top 6 teams could very well win this tournament.  I like Team Canada's roster and I think we have just as good a shot as Team Russia, if not better.  I also like the Swedes and Team USA quite a bit.  This tournament will really come down to whichever team meshes together best over the two weeks in South Korea.  Based on the above odds my favourite value play is Team USA at 9/1.
Play: Team USA 10.00
You can also bet on any individual game of both the Men's and Women's tournament's at SportsInteraction.com.  You can find all of the odds by selecting 'Hockey' followed by 'Olympic Mens' or 'Olympic Womens' at the Sports Interaction website.
Check out our hockey betting section for a further breakdown of the various bets you can make on each game, including money line, regulation time and over/under.
If you're new to betting online you can follow our 3 step guide to betting on the Olympics.  It's very easy and only takes a few minutes to get your first bet in.
Tagged With : 2018 Winter Olympics • Ice Hockey • Olympics betting • Olympics Ice Hockey • Winter Olympics • Winter Olympics betting