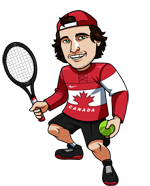 The 2018 French Open begins on Sunday in Paris and both the Men's and Women's tournaments have a ton of great story lines.  Rafa Nadal comes in as a massive favourite in the Men's tournament after showing his dominance throughout the clay season.  On the Women's side Serena Williams leads the headlines as she is back for her first Grand Slam tournament after having her child.
Below I've given my top picks for both the men's and women's tournaments.  Check out our tennis betting section for a breakdown of the various bets you can make on a tennis match.
Let's get into it…
Men's Outright Winner Pick
Here are the odds for the tournament from SportsInteraction.com: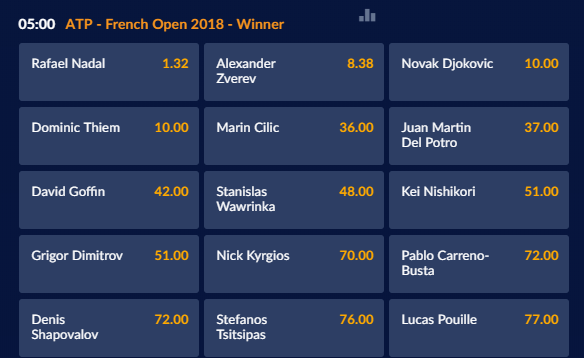 Nadal is a massive favourite to win his 11th French Open title, but rightfully so.  He's won 19 of 20 matches on clay court this season and he's coming off a big win in Rome leading into the tournament.  That said, at these odds to win a Grand Slam I can't say he's a good value play.  He dropped a set to both Zverev and Fognini in Rome and had a battle with Djokovic in the semi-finals, so he is showing some chinks in his armor.  Don't get me wrong, I do expect Nadal to win this tournament more than 50% of the time, but at these odds he would have to win the tournament more than 75% of the time to be positive expected value.  I don't think this is the case.
I'm looking at Djokovic at 9/1 as a potential bet.  He's had a rough season, but he showed some great tennis in Rome and if he can find that next gear I think he has a shot in Paris.
You also can't overlook Shapovalov at 71/1.  The Canadian has the explosive game that can beat anybody if he's on.  He could go out early, but if he gets hot he can make a deep run and you can either hedge off the bet or let it ride and hope this is the young Canadians breakout into the tennis elite.
Plays: Djokovic 10.00 and Shapovalov 72.00
**These are high risk plays because Nadal probably does win this tournament, so only use small amounts of your bankroll.
Women's Outright Winner Pick
Here are the odds for some of the favourites of the women's tournament: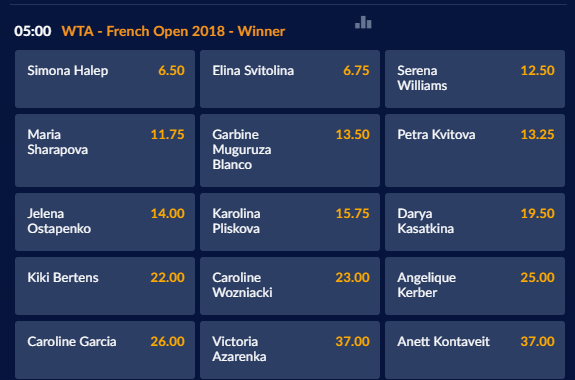 The women's tournament is wide open.  I'm looking right at Serena Williams at odds of 12.50.  Yes, she's not played much this year, hasn't even played a competitive match on clay to prep for the tourney, and has lost her last two matches, while being unseeded this tournament.  That said, she actually got a fairly favourable draw with a reasonable road to the fourth round and if she can find her game in those matches I think she actually becomes the favourite at that point in the tournament.
Serena is only a 3 time French Open champion, compared to a minimum of 6-time champ at the other majors, but if she can find her A-game she will be the favourite in this wide open field.  There is no women's tennis player full capturing that #1 spot while Serena has been away.  Williams is still considered the best player in the women's game and if she can get the win in Paris she will catapult herself back to the top of the women's game.
Play: Serena Williams 12.50
Check out our how to be on the French Open page for a full step by step breakdown showing you how to get your bets placed on the tournament at SportsInteraction.com.
Tagged With : 2018 French Open • French Open betting • French Open picks