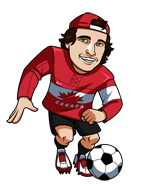 The knockout round of the 2018 World Cup is here!  My group stage record was 20-20 for +3.93 units, so I do have a small profit buffer heading into the knockout stages.
I will be using the best odds available at the time of writing this article from any of our 3 recommended betting sites for Canadians.  The odds can change leading up to the match so be sure to check the odds at each of the bookies before placing your wager.
**Also check out our how to bet on the FIFA World Cup in Canada page for a step by step guide to getting your bets in on any World Cup match.
Sportsbook
Features
Offers
Rating
Bet Now
1

Licensed and regulated in Canada
Easy deposits & withdrawals including Interac
Competitive betting lines
2

Licensed and located in Ontario
Entirely focused on Canadian betting market
Easy deposit/withdrawal options, including Interac
France vs Argentina
France 2.45
Draw 3.14
Argentina 3.50
Argentina is lucky to be in this position, needing a late goal against Nigeria to survive the group stage.  Even though they survived I have not been impressed with Argentina in this tournament.  They have looked disorganized and it seems they expect Messi to just carry them throughout the tournament.  I don't expect them to just flip a switch and be the Argentina of old in this match.
France did everything required of them to win their tricky group with some quality opponents in Peru and Denmark.  The last match with Denmark was nothing to call home about, but both France and Denmark were happy with a 0-0 draw and it showed in the match.  Through no fault of their own France has a very difficult road to the finals now, but I think they have the quality to outclass Argentina in this match.  Look for France to get the job done in regulation.
Play: France 2.45
Uruguay vs Portugal
Uruguay 2.87
Draw 3.24
Portugal 3.00
I think Uruguay is the better team in this match, but Portugal is a tough team to bet against in regulation.  They seem to always be able to pull out draws even if they are outplayed.  Just look at the 3-3 draw with Spain in their opening match.  And let's not forget that they won Euro 2016 while drawing 6 of their 7 games.  That's right, they tied all 3 of their group games and then won their first two knockout games in penalties.  They beat Wales in the semi-finals for their only true win of the tournament and then beat France in the finals in extra-time, which would be considered a draw in betting terms.
Portugal has already tied 2 of 3 of their games at this tournament, which makes them have 8 draws, 2 wins and 0 losses over the past two major tournaments.  I'm betting that the trend continues and taking the draw bet in this match.
Play: Draw 3.24 @ SportsInteraction.com
Spain vs Russia
Spain 1.57
Draw 4.22
Russia 7.00
Spain has Iran to thank for scoring a late goal against Portugal to allow Spain to finish atop the group and play Russia instead of Uruguay in this knockout match.  It's a big break for a Spanish team that has not looked their best so far in this tournament.  The team has looked somewhat disorganized at the back, and the firing of the coach just two days before the World Cup may actually be causing some issues.
That said, Spain has more than enough talent to score a few goals in this match and advance to the quarterfinals.  The question is whether they will be able to figure out their defending in time to make a deep run.  Lucky for Spain though, they have arguably the easiest road to the finals of all powerhouse nations.
Play: Spain 1.57
Croatia vs Denmark
Croatia 1.85
Draw 3.45
Denmark 5.50
Croatia has looked tremendous so far in this tournament, going 3-0 in the group stage, including a dominant 3-0 win over Argentina.  Denmark, on the other hand, is very lucky to get out of the group in my opinion.  Denmark was able to squeak out a win in the opening game against Peru, which really set the table for them to qualify.  I personally think Peru is the far better team, but Denmark got the job done and earned their spot in this match.  That said, I think this is a fairly straight forward match for Croatia.  Denmark will likely look to defend first and it will be up to Croatia to break them down and score the goal, but I think they have the talent to do so.
Play: Croatia 1.85
Brazil vs Mexico
Brazil 1.54
Draw 4.37
Mexico 8.00
Brazil was able to pull out wins over Costa Rica and Serbia to win their group, but they have not looked like the dominant team many expected heading into this World Cup.  Brazil is still the favourite to win the World Cup heading into the knockout stage, but I think every game is dangerous for them including this match with Mexico.
Mexico had a rough match with Sweden in their final group match, losing 3-0 to the Swedes.  That said, I don't think Mexico played that bad in that match.  Both teams had their chances, but a few bad breaks in close and Sweden was able to convert.  If Mexico can play a similar style to their first match of the World Cup, where they beat Germany 1-0, I give them a very real chance in this game.
I think this one will go to extra time and then it will really be anyone's game to win.
Play: Draw 4.37 @ SportsInteraction.com
Sweden vs Switzerland
Sweden 3.10
Draw 3.00
Switzerland 2.70
Sweden looked great in their 3-0 win over Mexico.  It was a truly impressive bounce back performance after the late goal they conceded against Germany really put their backs against the wall.  Sweden is a very organized team defensively and they have the ability to score from set pieces and on the counter attack.  Switzerland is a quality side, but I think they will have a tough time solving this organized Swedish side.
This game is a prime candidate to go into extra time, but I think the value is on Sweden as the underdogs.
Play: Sweden 3.10
Belgium vs Japan
Belgium 1.40
Draw 5.09
Japan 9.00
Belgium is my pick to win the World Cup, even being in the tougher half of the draw.  They played beautifully their first two matches, and their substitutes outplayed England in the group stage.  I don't think Belgium will have any trouble walking through Japan in this match.  Belgium has too much skill to be kept off the scoreboard by a team that will surely try to lock things down.  I expect Belgium to score early and the flood gates to open.
Play: Belgium 1.40
Colombia vs England
Colombia 4.00
Draw 3.30
England 2.10
I'm very surprised that Colombia is such a big underdog in this match.  Colombia had their backs against the wall early in this tournament, losing their first match to the weak Japan side because of a 6 minute hand ball that not only gave Japan a penalty shot goal, but also reduced Colombia to 10 men and ultimately gave Japan the win.  Colombia fought back hard from that adversity though, beating up on Poland and then getting the job done against Senegal to still finish tops in their group.
On the flip side, we really don't know what we have in England yet.  They barely squeaked out a win over Tunisia and then beat up on a much weaker Panama team, that really doesn't tell us much about this English side.  Against Belgium, both sides rested large number of players, but England was outplayed, ultimately losing 1-0.
Some pundits argue that losing the match with Belgium was great for England because it puts them on the weaker half of the draw.  I don't see it that way because now they must face Colombia in their first knockout round match.
I think this match could really go either way.  Both teams have the talent to score goals and it's actually England that has looked more penetrable on the defensive side of the ball, giving up a goal in each of their group stage matches.  I like Colombia to get the win and have England fans wishing they took getting a result in the Belgium game more seriously.
Play: Colombia 4.00
Again, these odds can change leading up to the matches, so be sure to check and compare the odds for each match yourself before placing your bets.
Tagged With : World Cup betting • World Cup odds • World Cup picks