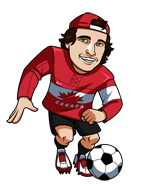 Real Madrid is looking to win the UEFA Champions League for the third straight year.  If they can get this win over Liverpool in the finals next Saturday then I think it would be fair to call this Real Madrid team a dynasty in European club soccer.
Winning the Champions League title three years in a row has been done by three other teams.  Ajax won three years straight from 1971-1973, Bayern Munich pulled off the feat from 1974-1976, and Real Madrid actually pulled off a streak of 5 wins in a row from 1956-1960.  This current Real Madrid team also won in 2014, so this would make it 4 wins in 5 years and they would have a real argument as the best team of all time.
Hoping to keep Real Madrid from making history is a Liverpool team that nobody expected to advance to the finals.
Champions League Finals Odds
Here are the odds for the Champions League finals, which takes place next Saturday in Kiev.  I will look at the 1×2 odds for the match and also simply the odds to win the trophy.  I will be using the best available odds from any of our three recommended sportsbooks for Canadians.
Real Madrid 2.20
Draw 4.32
Liverpool 3.06
To Win The Trophy
Real Madrid 1.74
Liverpool 2.15
My Pick
My favourite play for this match is Real Madrid to lift the trophy at odds of 1.74.  I was surprised to see that Real Madrid wasn't a bigger favourite heading into this game.  Yes, this is one match between two elite teams on neutral soil where anything can happen, but I think the talent, depth and experience of Real Madrid will give them a big edge in this match.
Real Madrid didn't look great against Bayern Munich in the semi-finals, but they got the job done against a team that many had winning the Champions League this year.  They also took out a perennial contender (and the team they faced in last years finals) with their 4-3 win on aggregate over Juvenus in the quarter-finals.  Real Madrid has had the more difficult path to the finals and I think most would agree that both Juventus and Bayern Munich pose more threats than Liverpool and Real Madrid was able to get past both teams.  At some point you have to realize that this is a team that simply knows how to get it done in big moments in Europe.  It's no fluke that they won the Champions League tourney that past two years.
Liverpool has been lightning up opponents on their march to the finals, with their 5-1 aggregate win over Manchester City especially impressive.  That said, the recent 4-2 loss against Roma showed that there are holes in this defense in big games and I don't think there are many teams who can better expose them than Real Madrid.
Real Madrid has been resting Cristiano Ronaldo to ensure he is 100% fit for this game.  Ronaldo is a player who has always stepped up in a huge way in Europe competitions and I think he could be a game breaker in this match, so it's a good sign that Real Madrid isn't risking injury heading into this huge match.
Overall, Real Madrid is the better club and even if this is a close game that goes into extra time or penalties I still think Real Madrid will find a way to lift the trophy.
Play: Real Madrid 1.74
I think there could also be value in the draw bet at odds of 4.32 at SportsInteraction.com.  I might toss a unit or two on that bet as well, but my main play will be Real Madrid to lift the trophy.
Tagged With : Champions League Finals • Champions League Finals betting • Champions League Finals pick