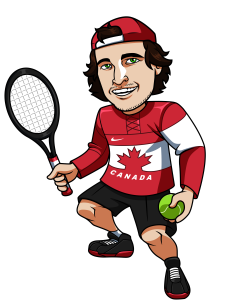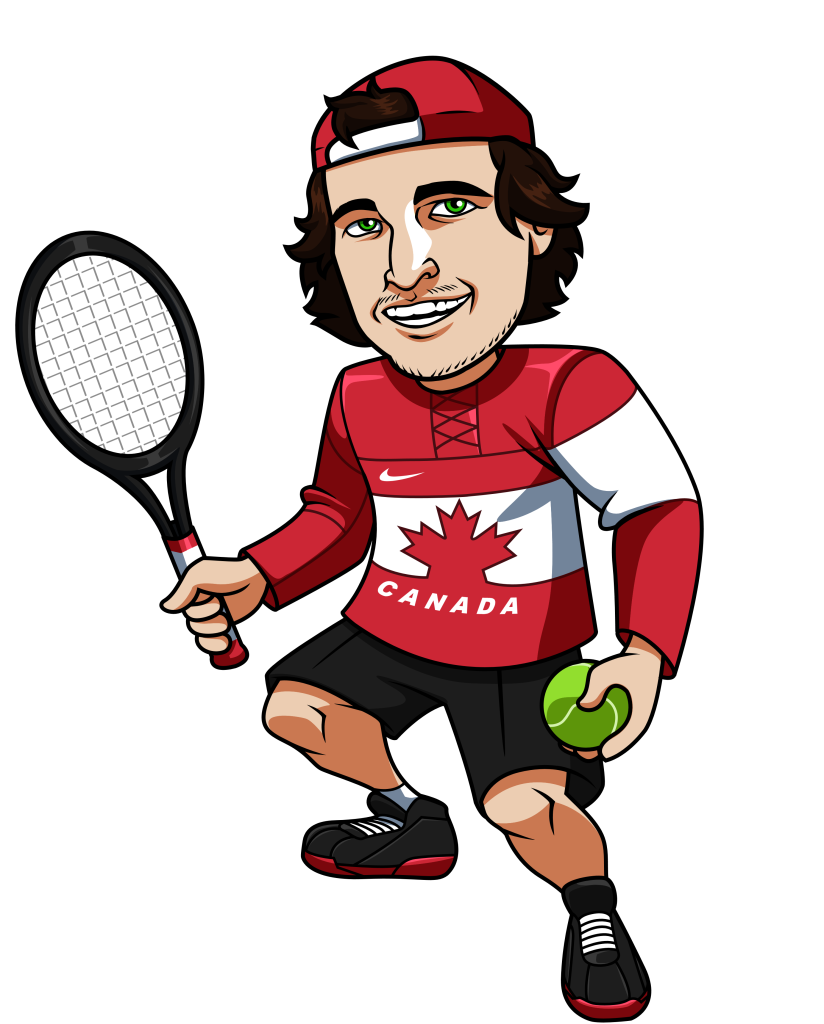 The top talent in tennis is coming to Canada this coming week with the Rogers Cup taking place in both Montreal (men) and Toronto (women).  I personally love this event and try to make it to Montreal from Ottawa for at least one day of the tournament each year.  The way Federer has played this year it's great to see him back in Toronto because his current form is certainly can't miss tennis from the legend.  The draw is set up that either Vasek Pospisil or Peter Polansky, both Canadians, will face him in the second round, so that will be a very fun match for Canadian tennis fans.  Overall, this should just be a great tournament and if you live in Ontario I strongly suggest making your way to either Montreal or Toronto for a day, you won't be disappointed.
In this article I'm going to look at the odds to win the tournament for both the Men's singles and Women's singles events and give my pick.  I will also touch on some typical bets you can make on each match throughout the tournament and provide a step by step guide for Canadians who are new to betting online to get your bets in on this years Rogers Cup.
Rogers Cup Montreal – Men's Singles Odds
Here are the odds to win the men's tournament from Bet365.com, our top rated sportsbook for Canadians looking to bet on tennis online.
Roger Federer 7/4
Rafa Nadal 7/2
Milos Raonic 8/1
Alexander Zverev 11/1
Kei Nishikori 16/1
Dominic Thiem 22/1
Tomas Berdych 22/1
Jo-Wilfried Tsonga 25/1
Nick Kyrgios 28/1
Grigor Dimitrov 28/1
My Pick
I just don't know if anyone is capable of hanging with Federer right now.  I tried to find a player with longer odds to back, but I just couldn't justify taking anyone else when Federer is in the tournament.  Feds is now a ridiculous 31-2 this season and that includes 3 wins over Rafa Nadal, who is the other big favourite in this tournament.  Federer has won this tournament twice before and lost in the finals 3 other times, so he does have great ability in Canada.  His current form is simply too much right now.  He actually hasn't lost to anyone in the top 100 this year with both of his losses coming early in very small tournaments that he likely wasn't fully focused for.  That should not be a problem for this Masters event in Montreal.
Play: Federer 7/4
Rogers Cup Toronto – Women's Singles Odds
Garbine Muguruza 8/1
Karolina Pliskova 8/1
Simona Halep 8/1
Johanna Konta 12/1
Elina Svitolina 12/1
Petra Kvitova 14/1
Angelique Kerber 14/1
Caroline Wozniacki 16/1
Jelena Ostapenko 18/1
Venus Williams 20/1
Madison Keys 22/1
Coco Vendeweghe 22/1
My Pick
Ostapenko has had a tremendous year with the highlight of course being her win at the French Open.  She performed solidly again at Wimbledon, reaching the quarterfinals before falling to Venus Williams.  In my opinion grass is the worst surface for her game and clay the best, but the hard courts in Toronto should also fit nicely with her attacking style.  The way she plays she can beat anyone on any given day.  Yes, her go for broke style also can result in her beating herself on some occasions, but she seems to be figuring out how to use her attacking tennis and reel in her use of lower percentage shots.  I expect her to be at the top of the game for a long time.
Play: Ostapenko 18/1
Match Betting Example
Let's take the line for a first round match between a couple Canadians, Vasek Pospisil and Peter Polansky and break down what exactly the odds mean.  This is taken from the ATP Montreal betting page at Bet365:

These are the odds to win the match in decimal odds format, which is the default format at Bet365.  Pospisil is the favourite based on the odds above.  The payout for a bet on Pospisil would be calculated by multiplying the amount you are betting by the odds (1.40).  So a $100 bet on Pospisil would payout $140 for a winnings of $40.
On the flip side a $100 bet on Polansky would pay out $275 for a winnings of $175.
On these first round matches you can also bet on the first set winner, as well as "set betting" which involves wagering on the exact outcome of the match (2-0 Pospisil, 2-1 Pospisil, etc.).  Check out our tennis betting page for a more detailed breakdown of the various bets you can make on each match at the Rogers Cup.
How To Bet On The Rogers Cup From Canada
If you're new to betting online, but want to wager on this years Rogers Cup, follow these 3 easy steps to get started.
As I mentioned above Bet365 is our top rated site for betting on tennis.  After clicking on the above link you will need to select 'Join Now' in the top right corner of the screen and open an account.  It's very easy.  Bet365 is also the biggest sports betting site worldwide so it's safe, secure and a great site for new players.
Click here to join up at Bet365.com….
Step 2: Fund Your Account
Now that you created an account you'll need to make a deposit so that you have funds with which to bet on the tournament.  Bet365 accepts Visa, MasterCard, iDebit, InstaDebit, paysafecard and Entropay deposits from Canadians.
Step 3: Place Your Bets
To actually place your bets on the Rogers Cup click on 'Tennis' from the left sidebar once at the Bet365 website.  For the men's tournament you will find the betting options under the 'ATP Montreal' header and for the women's tournament they will be under the 'WTA Toronto' header.  To see a list of the matches click on 'Round 1 Matches' or whichever round the tournament is in when you're placing your bets.  This will bring up all of the matches for that round and you can wager on the one you want or click through to see the other bets available for the match.  You can also select 'To Win Outright' to place your bet on the tournament winner.
If you have any questions don't hesitate to ask me.
That's it for now though.  Ready to bet?  Click here to visit Bet365.com.
Tagged With : Rogers Cup • Rogers Cup 2017 • Rogers Cup betting • Rogers Cup picks • Tennis Betting • Tennis picks