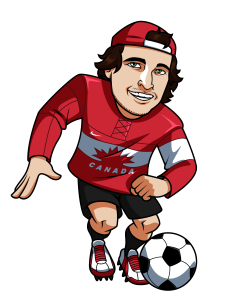 The 2017-18 English Premier League season begins one week from today on August 11th with Arsenal visiting Leicester City to kick off the season.  Here in Canada the Premier League is without a doubt the most popular and wagered on soccer league in Europe.  The big clubs such as Manchester United, Man City, Chelsea, Arsenal and Liverpool are all very popular here in Canada and you can often find Premier League matches on local television on Saturday mornings here in Canada.
In this article I will look at the odds for the upcoming EPL season and also outline some bets that you can make on each match throughout the year.  At the end of the page I will walk you through a 3 step guide to get your Premier League bets placed at an online sportsbook catering to Canadian residents.
Top Sportsbook for Canadians
Sportsbook
Features
Offers
Rating
Bet Now
Bet365 is our top rated site for betting on the England Premier League.  They offer by far the most betting options for each match throughout the season and also offer a couple great promotions for soccer matches including their bore draw (0-0) money back offer for all correct score, scorecast or half-time/full-time bets, and their Euro soccer accumulators bonus.
I will be using the odds from Bet365 for the remainder of this article.
EPL 2017-18 Outright Winner Odds
Here's a screenshot of the odds for the 2017 EPL Champion: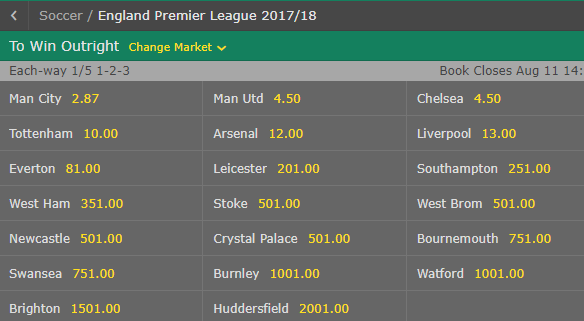 Manchester City is the favourite this year after finishing third at the conclusion of the 2016-17 season with 78 points – 15 points back of 2017 champs Chelsea.
I'm personally looking at Manchester United at odds of 4.50. They've had a very solid pre-season including a 2-0 win over Manchester City in late July. Man U have not won the Premier League since 2012-13, but there is reason for optimism for Man U fans this year with Jose Mourinho focusing on depth this season, and stars like Paul Pogba and Romelu Lukaku ready to take this club to the next level.
Match Betting Example
Here is an example of what the 3-way odds will look like for an EPL match at Bet365. The example below is using Arsenal and Leicester City and as you can see there are 3 options. The 1×2 indicates team 1 (Arsenal), a draw (X) or team 2 (Leicester).

In this example Arsenal is the favourite in the match. Their odds of 1.40 indicate that your wager will be multiplied by 1.40 to find your payout if they win. For example, a $100 wager on Arsenal would payout $140 ($100 x 1.40) for $40 of winnings. A $100 bet on Leiciester City on the other hand would pay out $800.
You can also see the '72>' at the right side of the odds screenshot above. That indicates that there are 72 other betting lines available for this match at Bet365. Check out our dedicated soccer betting page for some more detailed breakdowns of some of these other wagers you can make.
How To Bet on the English Premier League – 3 Step Guide
Here is a quick 3 step guide for Canadians looking to bet on the EPL online.
As I mentioned above Bet365 is our top rated betting site for Canadians looking to bet on the England Premier League.  They are the biggest and most respected betting site in the world and this translates into the widest variety of betting options you will find on the EPL, great customer service and also several great promotions that I outlined above.
Click here to visit Bet365.com and open an account.
Step 2. Make a Deposit
Next you will need to make your first deposit so that you have funds online to wager on the Premier League.  Bet365 accepts Visa, MasterCard, iDebit, Instadebit, Entropay and Wire Transfer deposits from Canadians.  Check out our deposit methods page for more information about any of these options.
Step 3. Place Your Premier League Bets
Once at the Bet365 website, click on 'Soccer' from the left sidebar and then select 'England Premier League' from the United Kingdom section of the page.
This EPL page will show the odds for all of the upcoming matches, as well as the various related markets that you can wager on including the Outright Winner futures wagers that I displayed a screenshot of above.
Again, to learn more about the various bets you can make you should check out our soccer betting section.
Are you ready to bet?  Click here to visit Bet365.com.
Tagged With : England Premier League • English Premier League • EPL • Premier League • Premier League betting • Premier League odds