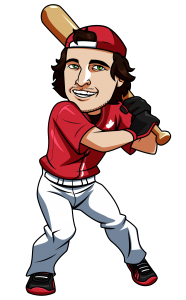 In 2015 the Blue Jays gave us Canadians an October to remember and put Toronto back on the map in the MLB.  The expectations for 2016 have since sky-rocketed and the Jays are now in the preseason discussion as contenders to win the World Series this year.
I'll be honest, I don't follow the MLB a whole lot during the regular season, but those Blue Jays playoff games were a treat even for me.  Just the drama and stakes in every game, every inning and every pitch had me glued to the TV in a way I never expected from baseball.  I'll definitely be following the Jays a lot more this season and because of this I took a peek at their various futures odds for this season.
All of these odds are taken from SportsInteraction.com, which is our top rated sportsbook for Canadian bettors (full review here).  The odds may vary at other betting sites.
To Win World Series
Those are the third best odds in the MLB after the Chicago Cubs (5.00) and San Francisco Giants (9.00).  In fractional odds that has the Blue Jays as 9.5/1 to win the Championship this season.  If you take out the juice that means the sportsbook is basically giving the Jays a 1 in 10 shot at winning the World Series this year.
To Win American League Pennant
SportsInteraction.com has the Jays as the favourites to win the American League Pennant and play in the World Series.  Other notable odds include the Red Sox (6.50), KC Royals (7.00) and Houston Astros (8.00).  Here's the entire list actually:

To Win AL East
Blue Jays 2.69
Red Sox 2.70
Yankees 4.52
Orioles 9.00
Rays 9.00
The Jays are the favourites to win the AL East, but the Red Sox are right there with them.  It's interesting to see that the Jays are being given a much better chance to win the World Series than the Red Sox, but basically the exact same odds to finish atop the AL East.
Regular Season Wins Over/Under
Over 87.5 (1.83)
Under 87.5 (1.87)
Last year the Blue Jays finished with 93 wins and that was an amazing season.  The Yankees finished with 87 for second in the AL East.  The oddsmakers are giving the Blue Jays a 5.5 game cushion compared to last years solid finish.
As I mentioned above, I'm not a baseball expert, so I won't be giving my predictions on any of these bets.  But it is interesting to see what the oddsmakers think of the Blue Jays heading into the 2016 season.
If you like any of the odds and want to bet, click here to visit SportsInteraction.com.
Tagged With : Baseball Betting • Toronto Blue Jays