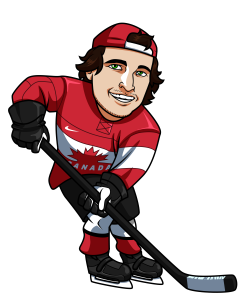 I'm not usually a big fan of All Star Weekend, but this year I think I'm actually going to follow.  I'm excited for a couple of reasons.  Number one, the new 3 on 3 tournament format should make for some very exciting hockey and we might actually see some players try when the competitive juices get flowing in this tournament format.  The second reason is for John Scott.  I was pumped when they announced he would be allowed to participate.  It's going to be fun watching him in both the skills competition and on the ice.  I know he's gained a lot of new fans through this ordeal and hopefully he can put in a half decent performance this weekend.
SportsInteraction.com has odds up for the 3 on 3 tournament on Sunday night and I wouldn't be surprised if they get some Skills Competition props up later today.
Pacific vs Central
Pacific 2.25
Central 1.67
I realize that the odds have the Central Division as such big favourites mainly because John Scott is the Pacific Division captain.  Well, in addition to players like Patrick Kane, Tyler Seguin, Jamie Benn, Vlad Tarasenko and Roman Josi leading the way with the Central Division.  On paper it's hard not to argue that the Central Division has the better team and when you add in the fact that they are basically the home team with four Predators players in the lineup.
All of that said, I'm still taking the Pacific Division here.  It's an All-Star game and you can never really guess the effort level from all of the players.  That said, I expect the Pacific Division team to have a higher effort level to work hard for captain John Scott.
Play: Pacific 2.25 @ SportsInteraction.com
Metropolitan vs Atlantic
Metropolitan 1.74
Atlantic 2.15
When you look at the rosters in this match-up you have to give the edge to the Metropolitan Division.  The high skilled players on that team such as Giroux, Malkin, Kuznetsov and Tavares should be able to put up some numbers.
I'm also not sure of the effort level we will see from some of the key players on the Atlantic Division team.  Erik Karlsson would probably need to be the best player on the ice for the Atlantic Division to really succeed, but I just don't see him bringing the effort level.  He plays so many minutes in Ottawa that he has to be looking for a little bit of a break this weekend.  He already said he is excited to not play as many minutes as he normally does and I expect lots of gliding from the Atlantic Divisions best player.  Jagr also likely won't be going hard and the other players, not name Stamkos (and maybe Larkin), on the lineup aren't really high skilled players.
Play: Metropolitan 1.74 @ SportsInteraction.com
All-Star Game Prop Bets
Sports Interaction also has some prop bets available such as John Scott's total goals over/under, which is set at 0.5.  The top goalscorer for each team is another prop bet, as well as the player to win MVP outright.
Check out all the props at SportsInteraction.com.
Tagged With : All Star Betting • NHL All Star Game