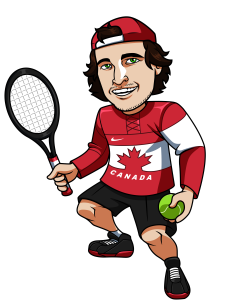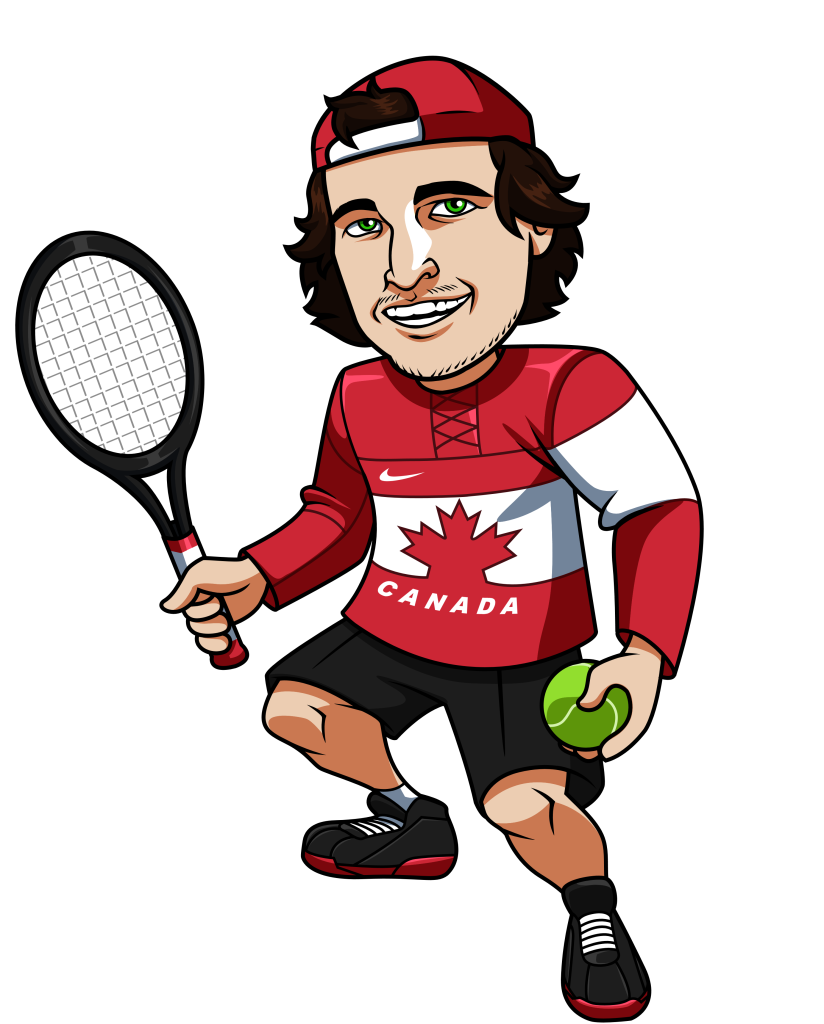 There's no Milos Raonic in the quarterfinals in this years Wimbledon, but Canada isn't without a Men's Singles player remaining the in draw.
Last year Vasek Pospisil emerged on the doubles scene with a Wimbledon win with partner Jack Sock.  This year Pospisil has emerged in singles with a quarterfinals appearance that includes 3 5-set wins.  That includes coming back from 2 sets down against Victor Troicki in the 4th round and coming back from 2-1 set deficits to both James Ward (round 3) and Vincent Millot (round 1).  Even though Pospisil is having his best Grand Slam singles tournament of his career he has had a pretty favourable draw in which he wasn't a huge underdog in any of his matches.  That will change in the quarters where Pospisil will be up against defending champion Andy Murray.
In other matches we have Djokovic vs Cilic after Novak survived being down 2-0 against Kevin Anderson in round 1.  Wawrinka will look to continue his strong play against Richard Gasquet who has knocked off a couple big names in the tourney so far.  The other quarter on the Pospisil vs Murray side of the draw is Gilles Simon against Roger Federer.
Let's look at the odds and my picks for each match.
Novak Djokovic vs Marin Cilic
Djokovic did have a 5-set match in the 4th round after losing the first 2 sets 8-6 in tiebreakers.  Djokovic was able to dig deep though and survived the match.  I wouldn't say that Djokovic should really worry about his form.  It's just extremely difficult to break Kevin Anderson, especially early in the match when he is fresh and his serve is on.  Cilic is a difficult match.  He has the ability to raise his game and beat top players as he showed at last years US Open.  That said I think Djokovic will have gained a lot of belief from that last match and a he should be able to find a way to win.
Play: Djokovic 1.07 @ Bet365.com
Stan Wawrinka vs Richard Gasquet
Wawrinka 1.44
Gasquet 2.90
Wawrinka has ripped through the first four rounds of this tournament and looks like a threat to win yet another Grand Slam this year.  Gasquet is playing well, but Wawrinka will have to bring a B-game for Gasquet to win this match.  Wawrinka has worked a lot on his consistency over the past couple years and I don't think he will be defeated by Gasquet tomorrow.
Play: Wawrinka 1.44 @ Bet365.com
Vasek Pospisil vs Andy Murray
Pospisil 15.00
Murray 1.03
As I mentioned above this has been an awesome tournament for Pospisil, but it's likely going to come to an end tomorrow against Andy Murray.  Pospisil played 10 sets of tennis yesterday when you include his doubles match (a loss to Andy's brother Jamie actually).  That's a lot of tennis to recover from.  These 5 set matches will catch up to Pospisil in this one.  Also, Murray is just too consistent for me to see him losing this match.
All of that said I'm still going to steer clear of betting on this match.  Anything can happen.  Murray could get injured or Pospisil could potentially pull out another miracle, but it's unlikely.  Either way I don't see taking Murray at 1.03 as a smart play, so I'm staying away from this match.
Play: Dark
Roger Federer vs Gilles Simon
Roger Federer 1.11
Gilles Simon 7.00
Simon just dispatched Berdych in 3 straight sets and he also squeaked by Gael Monfils in round 3 in 5 sets.  Federer has had a pretty easy route so far, but he's ripped through every match, only dropping a tie-break against Sam Groth in the third round.
Simon actually beat Roger Federer in their first 2 matches back in 2008, but since then Federer has gotten his revenge 5 times.  The two have never played on grass though.
I actually like Gilles Simon at 7.00.  Federer has had difficulty getting into the big matches against the other top guys in the Grand Slams recently and I think the way Simon has played he could pull off the upset tomorrow.
Play: Gilles Simon 7.00 @ Bet365.com
Check back for some semi-finals picks in the next couple days.
Tagged With : Novak Djokovic • Vasek Pospisil • Wimbledon