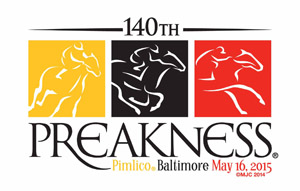 The 2015 Preakness Stakes is set to take place in Baltimore in a couple of days.  There's a lot of excitement building for this race because the horse who many consider has a shot at this years Triple Crown, American Pharaoh, did the job at the Kentucky Derby to keep the hope alive.
American Pharaoh was able to pass Dortmund and Firing Line in the final stretch of the Kentucky Derby to secure the victory.  Check out the video below:
American Pharaoh is now being given odds of 10/13 to win the Preakness Stakes, which makes him a very big favourite heading into Saturday.
Preakness Stakes Odds (As of May 14th, 2015)
Here is the full list of odds for the horses running in Saturday's Preakness.  I'm using the fractional odds format, so if you don't understand it, check out our odds information page to learn how.
American Pharaoh 10/13
Dortmund 15/4
Firing Line 17/4
Danzig Moon 14/1
Divining Rod 20/1
Mr. Z 25/1
Bodhisattva 50/1
Tale of Verve 50/1
As you can see there are only 8 horses running the race, which should make it easier for American Pharaoh to find room in the race.  Last year there was 10 horses and in 2013 there were 9, in comparison.
American Pharaoh 10/13
American Pharaoh showed at the Derby that he is definitely the horse to beat.  The Preakness is a bit shorter, but I don't think it will be a problem catching either Dortmund or Firing Line if they do happen to have the lead again in the final stretch.
Dortmund 15/4
Dortmund is the second favourite, but after watching the Kentucky Derby I don't think he is on the same level as American Pharaoh.  He was not impeded whatsoever in the Derby and was still easily caught by American Pharaoh at the end.
Firing Line 17/4
Firing Line finally beat Dortmund, after finishing second to him twice earlier in the season.  He did look like the faster horse of the two in the last race, which leads me to believe if the he gets a clean break out of the gate and American Pharaoh runs into some trouble then Firing Line will have a chance to win.
All of that said, I think that American Pharaoh at 10/13 is still the best bet to win the Preakness Stakes.  It will take a lot of misfortune for him not to find a way to win the Preakness.  I may be a bit biased as well though because I'm excited to have a horse with a chance at the Triple Crown heading into the Belmont Stakes race.
Tagged With : American Pharaoh • Preakness