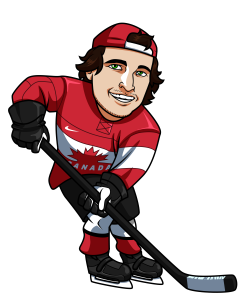 The NHL Awards are in the books after a decent ceremony last night in Vegas.  Now all eyes in the hockey world turn their attention to Florida, where the NHL Draft is set to take place tomorrow and Saturday.  This 2015 Draft is being touted as one of the best of all time.  Not only do we have two "generational talents" at the top of the draft class in Connor McDavid and Jack Eichel, but the depth of the draft could apparently rival that of 2003, a draft that produced 16 NHL All-Stars in the first round!
I'm not going to be able to watch the draft live because I'll be at the China vs USA Women's World Cup game, but I might be on my phone checking the news more than I'm even watching the quarterfinal match in front of me.
I'm going to touch on some of the props I find the most interesting from each sportsbook below, but by no means will I come close to covering all the props that are offered.
How Many OHL players will be drafted in the first round?
Over 6.5 (1.83)
Under 6.5 (1.83)
There are 6 OHL players projected in the top 15 of the draft, but none in the 16-30 range, which makes this bet very interesting.  You are basically wagering on if one of the 3 guys in the 31-36 range moves up into the first round.  I think there's a good chance.
Here are a few more over/unders you can find:
Number of trades on Friday – O/U 5.5
Number of NHL teams that thanks the host city at the podium – O/U 14.5
Number of NHL teams that congratulate the Blackhawks – O/U 5.5
The last type of prop bet offered is over/under's on draft position for some of the big names in the draft.  I'll go over a few here:
Ivan Provorov O/U 7.5
Mikko Rantanen O/U 7.5
Mathew Barzal O/U 7.5
Lawson Crouse O/U 9.5
Zach Werenski O/U 9.5
Kyle Connor O/U 12.5
Sports Interaction Draft Props
Sports Interaction also has the over/under by position prop, but that's pretty much where the similarities stop.
SIA has over/unders for the number of players born in each country to go in the first round:
Canadian O/U 12.5
American O/U 7.5
Russian O/U 3.5
Swedish O/U 2.5
Czech O/U 2.5
And instead of over/unders for the leagues they just have a single "League Supremacy" prop:
OHL 3.00
NCAA/USHL 3.30
QMJHL 3.55
WHL 3.80
Europe 17.00
After this SIA turns their attention towards the Canadian NHL teams and which players each team may draft.  Here's an example using the Toronto Maple Leafs 4th overall pick:
Dylan Strome 2.50
Mitch Marner 2.95
Noah Hanifin 3.30
Ivan Provorov 5.60
Lawson Crouse 8.35
Mikko Rantanen 26.00
Matthew Barzal 26.00
Zach Werenski 27.00
Timo Meier 34.00
Any other player 14.00
The same type of odds are given for each Canadian teams pick, with players ranked near their draft position.
That about sums up the draft props offered at SportsInteraction.  Click here to visit SportsInteraction.com and lay down a few bets.
Tagged With : Connor McDavid • Jack Eichel • NHL Betting • NHL Draft